It's hard to believe we are in the last week of November!  Christmas is less than a month away and I'm SO not ready for it.
Are you running around like a crazy person getting ready for the holidays?  I know I am.  Though, it's not necessary. The most important thing is just being with your fam jam and friends, isn't it?   Make a meal, sit, talk, laugh and enjoy each other's company.  How simple (and good) does that sound??
I have lots of good eats to share with you guys over the next few weeks.  Before we get ahead of ourselves, let's check out this Monthly Round up and Favourites for November, shall we?
Recipes Shared This Month
Brown Butter Mashed Turnip – Minimal ingredients, a whole lotta flavour – that's what you're gonna get with this Brown Butter Mashed Turnip with Roasted Garlic. It's a simple side dish that would be a yummy addition to any special occasion.
Turkey Quinoa Chili – Packed full of hearty, nutritious ingredients this clean eating Turkey Quinoa Chili will fill you up without weighing you down. Garnish to your heart's content with goodies like avocado, jalapeño and green onion!
Slow Cooker Split Pea Soup – Like a big hug from grandma, this Slow Cooker Split Pea Soup is chocked full of veggies, cubes of ham and yellow split peas for one comforting, belly-warming, meal!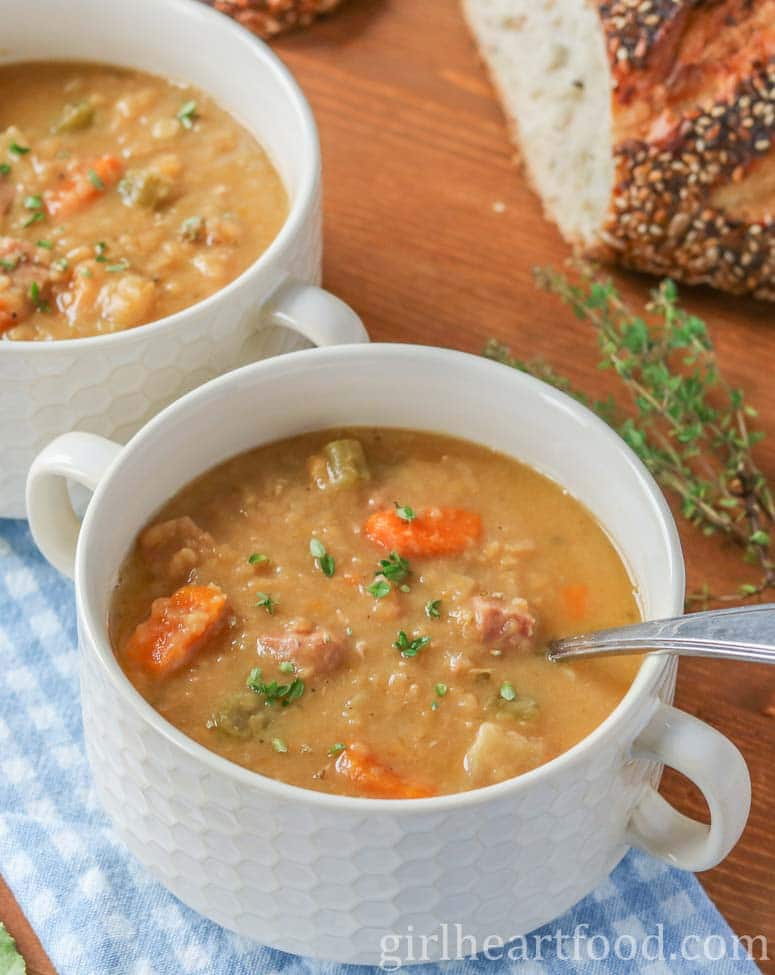 Vegan Sloppy Joes – A twist on a classic, these Vegan Sloppy Joes will knock your socks off! Loaded with lentils, a soy based crumble and spices, this one pot comfort food meal will satisfy the hunger bug every time!
Cranberry Orange Muffins with Chocolate Chips – Tart cranberries, loads of freshly grated orange zest and dark chocolate chips make these Cranberry Orange Muffins irresistible. Plus, they take minutes to whip up so you could be enjoying these in no time!
Creamy Tomato Basil Soup – This Creamy Tomato Basil Soup comes together in no time at all in just one pot.  It has a rich tomato flavour along with hints of basil.  Such a classic and just perfect for a comforting lunch.
Gingerbread Cake – Make your holidays extra festive with this easy Gingerbread Cake Recipe! There's loads of warming flavours like cinnamon, clove, nutmeg and rich molasses.  The whole cake is topped with a simple icing sugar glaze and plenty of fun sprinkles!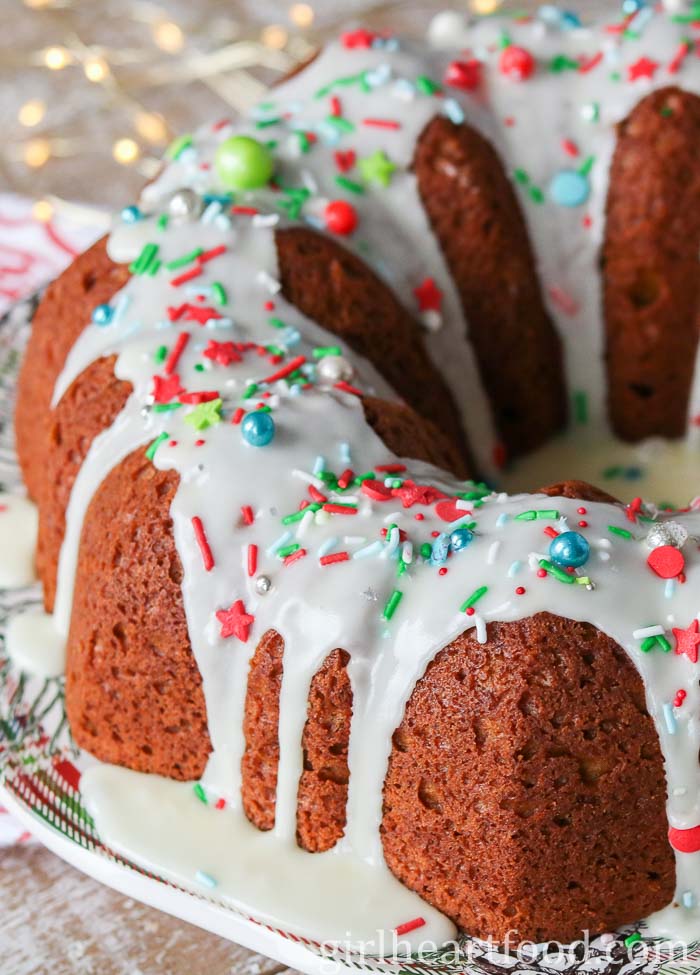 What's in Season
If you're ready to get the festivities goin' over the next few weeks, these oldies may interest you –
No Bake Peppermint Chocolate Snack Bites – Little bites of holiday goodness! They're the perfect little treat for yourself, Santa or for gifting.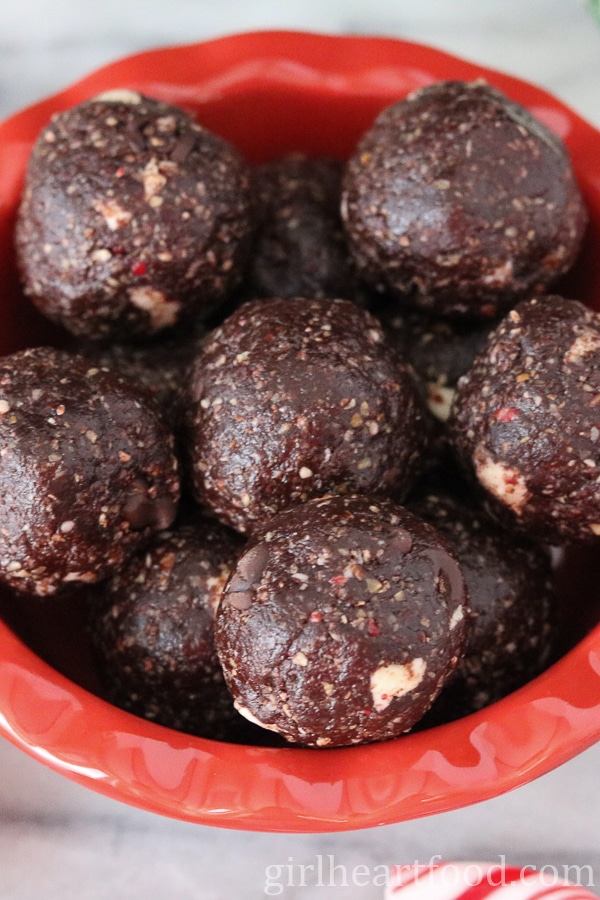 Fruit Cake Bread Pudding – Looking for an easy bread pudding recipe? This one can be put together in minutes and is a great way to jazz up leftover fruit cake! Dotted with white chocolate and sprinkled with pomegranate, it's one delicious bite.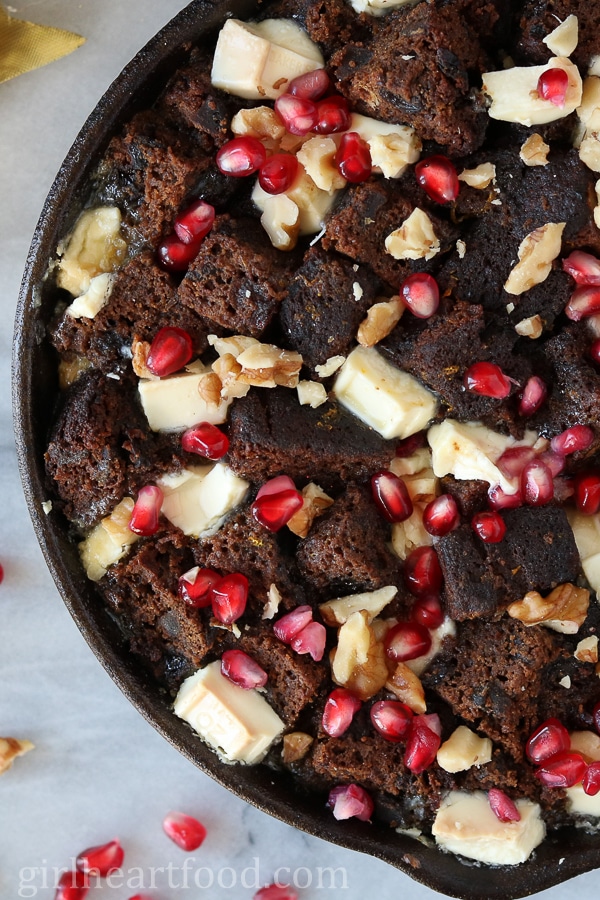 TV/Shows/Movies
BodyGuard on Netflix.  I heard lots of good stuff about this action packed show and decided to check it out.  There's only 6 episodes for this first season (each about an hour in length) and, let me tell you, loved it! Rumor has it that the main character, Richard Madden, may be the next James Bond and I can totally see it.
The Princess Switch on Netflix – Ok, this may be a sappy, corny Christmas movie, but I loved it and I bet you will too!
Music
'Love Lies' by Khalid Normani – nice little 'listening in the car' kinda song.
'Say Something' Video by Justin Timberlake feature Chris Stapleton. The song is awesome, but the shooting of the video is fabulous! Definitely worth a watch.
And, I'm not gonna lie, totally been breaking out the Christmas tunes in the car.  I love the old school classics by Frank Sinatra, but I also love those cheesy ones ('the hat I got for Christmas is too big…..' – bet that's stuck in your head now, isn't it ;)? ).  What's your favourite?
Random
You guys, I was interviewed for a podcast by the lovely Elaine Benoit of Dishing with Delishes!  If you want to know more about little ol' me and my blog, be sure to check it out here.
You know how we spoil fur baby?  Well, for Christmas we bought him a PJ onesie (how cute is that?) Expect a pic coming your way next month 😉
How fun is this Christmas t-shirt? I'm all about those novelty t's and this one is so fitting for the few weeks ahead.
Food for thought – as you're rushing around over the next few weeks, please keep in mind the less fortunate.  Donate your time or some food items to a local food bank.  Every little bit helps and never take any small gesture for granted. What may seem small to you, may mean the world to someone else.
Hope you've enjoyed my monthly roundup and favourites for November!
Tell me, what has been making you happy this past month?
Until next time, take care and chit chat again soon 🙂
~Dawn