Hey everyone! We are officially less than a month away from Christmas.  Ok, I'll just wait one hot minute until you pick yourself up off the floor.  I'm not ready.  At all.  I feel this is the least prepared that I've been in years.  Please tell me I'm not alone.  I had a busy month cooking up a storm so I'll use that as an excuse.  I'm sure it'll all get done (that's what I keep telling myself anyway).  Anywho, let's get to the good stuff, shall we?  
Things I've Posted this Month
Chocolate Zucchini Bread – This one is loaded with lots of shredded zucchini to make for one moist loaf.
One Pan Italian Sausage and Farro – Not a lot of dishes, but LOTS of flavour, this one is one of my favourite cold weather dishes!
How To Cake It Book Review + Rainbow Grilled Cheese Cake  – Such a FUN cake to make!
Five Cheese Beer Mac-n-Cheese – Lush, cheesy and just dang delicious!
Harvest Wild Rice Salad – This one is delicious warm or cold and packed full of texture and flavour.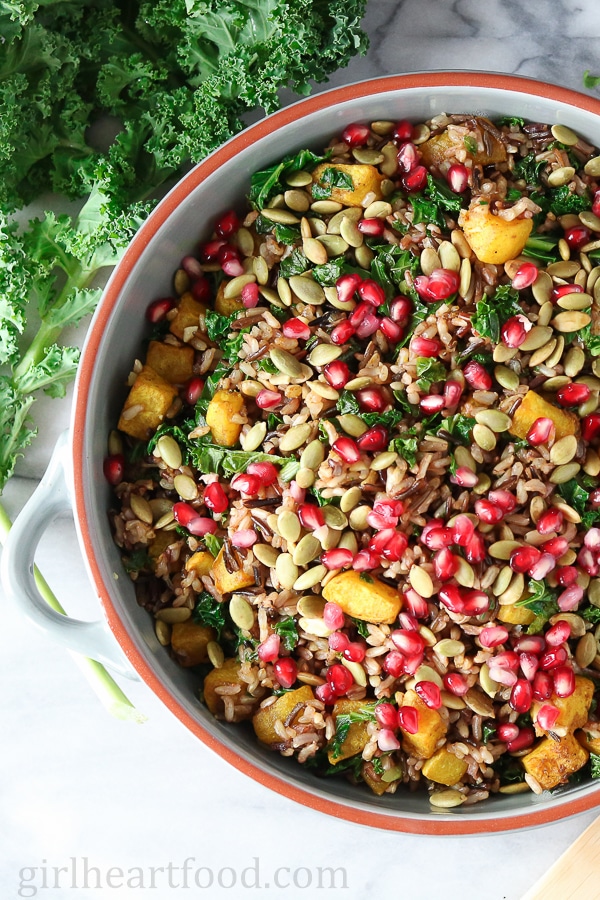 Apple and Gouda Mixed Green Salad  My go-to salad – minutes to make and sure to please everyone!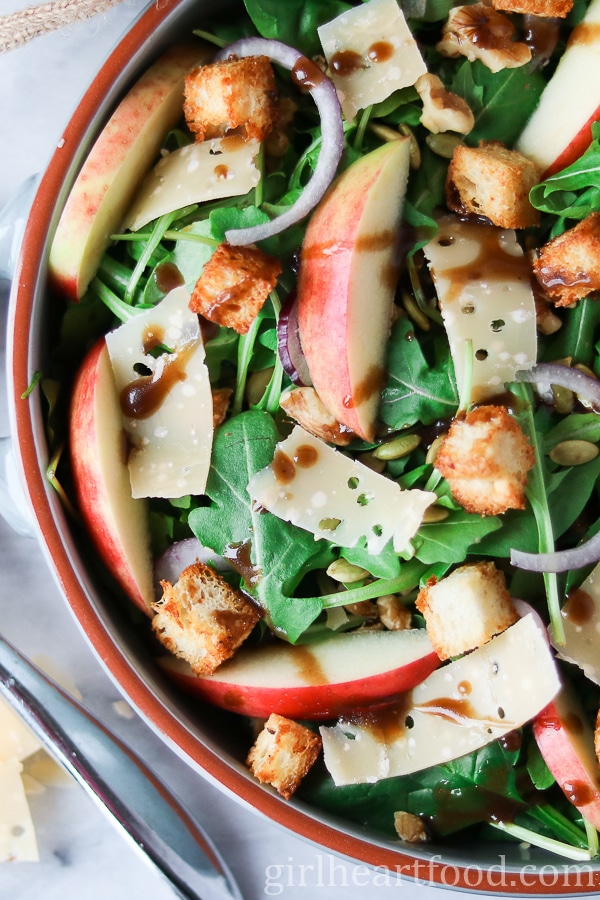 Apple Galette – Easy peasy fall inspired dessert!
Homemade Hot Chocolate – A winter staple in our home!
Recipes I'm Lovin' Right Now From Fellow Bloggers
Marinated Feta from Spiced Blog – Love feta and I'm thinking this would be an awesome homemade hostess gift this holiday season!
Easy Mediterranean Beet Salad from A Forks Tale – Beets, roasted pecans and goat cheese – there is no going wrong with this one.
TV SHOWS/MOVIES
Justice League – A super hero  of super hero movies!  I got goose bumps watching this movie.  It was action packed from the start and, for me, Wonder Woman was the star…obviously 😉
Dynasty on Netflix – It's a remake from the 1980's.  Now, I'm gonna tell you – this is not the BEST show in the world, but entertaining? YES!  I picked this one up while running on the treadmill.  Believe me, it makes the time go fast.  It's completely over the top and there's drama to spare in this one, you guys!
MUSIC
'Perfect' by Ed Sheeran – Of course, Ed (first name basis, lol) always puts out hits and this one is no different.
'What Lovers Do' by Maroon 5 featuring SZA – I'm not normally a huge fan of Maroon 5, but totally feelin' this one.
'Feel It Still' by Portugal The Man – Catchy little tune as you dance around in the kitchen.
'Havana' by Camila Cabello featuring Young Thug – This one has a cool video, almost like a mini movie type situation.
RANDOM
So, despite being ill-prepared for Christmas, I finally got into the mood this past weekend! Do you know what triggered it?  A scented wax melt!  It had a cinnamon scent and just that alone got me all giddy.  Though, maybe it was the eggnog latte that hubby made me that morning too.  I was also looking at my old snow globe collection.  I used to collect those years ago and have lots. There's just something about them that makes me happy. Whatever made me feel in the mood for the holidays, I'll take it!
How do you get in the Christmas spirit?  Bake, shop?  Do tell!
Oh, and while you're at it, I'd love to hear about some of your favourites from this past month.
Sneak peek—>next week I'm bringing you guys a vegan book review (with a delish recipe) and another Christmas recipe (yay!)
Until next time, take care and chit chat again soon 🙂
Hope you've enjoyed my Monthly Round up and Favourites November 2017! If you missed my last one, you can check it out here.