Holy moly, tomorrow's June 1st!! You definitely can't tell by the weather we've been having – super windy, rainy and cold! Ugh.  However, it is an excuse to stay inside and cook (one of my fave things to do, of course).  May flew by, as usual and there were some tasty eats.  Though, I do have some more awesome ones I'm sharing with you guys in the month ahead, so stay tuned. Grab a cuppa coffee, tea or whatever floats and your boat and let's check out this  month's monthly round up and favourites!
Recipes I've Posted This Month
Cucumber Melon Salad with Boncconcini – This one is made in about 10 minutes so it makes for an easy and delicious salad to take to a backyard bbq this summer.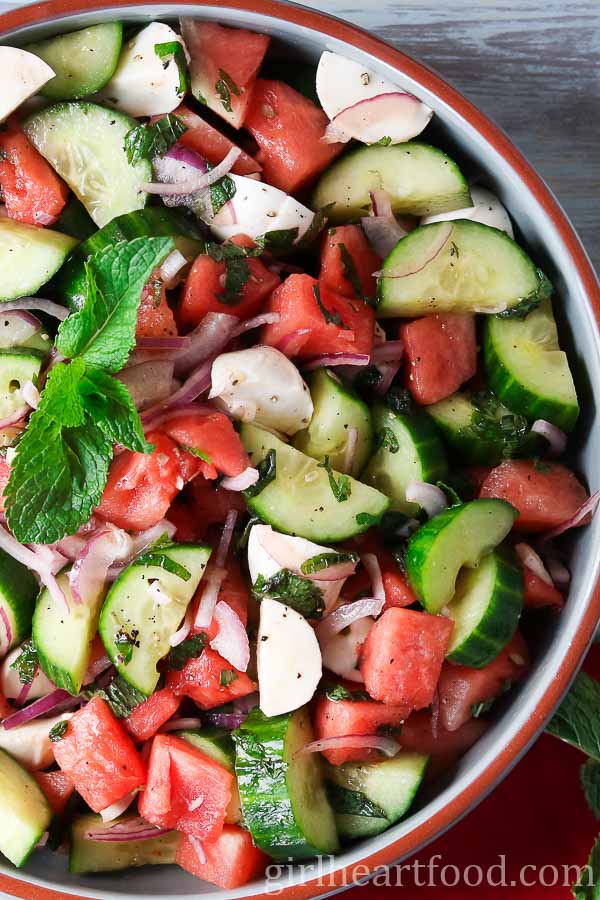 Mother's Day Brunch Recipes – This is a round up of over 20 brunch recipes, perfect for any special weekend brunch, really!
Black Bean and Tofu Scramble Lettuce Wraps – These vegan and gluten free lettuce wraps can be on the table in under 15 minutes.  Leftovers are awesome as a nacho topping too!
Chicken and Cheese Quesadillas – These cheesy quesadillas are a favourite in our home so they are on a regular rotation. Love the adobo sauce for a lil' smoky heat, but you can use bbq sauce if you prefer.
TV/Movies/Books
I am Pretty with Amy Schumer – I went to see this movie with my sister-in-law for a fun little girl's night out.  There were definitely some laugh out loud parts.  At times, you may have gotten a little annoyed with the main character, but all in all, great movie a positive message.
Solo: A Star Wars Story – this latest Star Wars movie is getting mixed reviews, but I really enjoyed it.  I could  easily follow the story line and it was action packed. Plus, you find out out how the character Han Solo got the name 'Solo' 😉
Master Chef  – home cooks compete to win the title of 'Master Chef' and a large cash prize. I have watched this series from day 1 and am always entertained by it.  It's fun watching the contestants grow and make guesses on who's gonna win.
Love Connection season 2 featuring host Andy Cohen – ok, this is a 'turn-your-mind-off-munch-on-some-popcorn-and-drink-a-glass-of-vino' type of show.  Highly entertaining, despite the fact that contestants who end up together don't usually stay together. Woomp woomp.
The Unbreakable Kimmy Schmidt on Netflix – the main character is a little over-the-top optimistic, but that never hurt anyone.  It's a great feel-good show and will definitely put a smile on your face.
Dealpool 2 staring Ryan Reynolds.  He was seriously made for that role.  This one is jam packed with action and funny to boot.  If you are a fan of the first one, this one will not disappoint!
I See You novel by Claire Mackintosh – this is a little bit of a thriller novel and once I got started I couldn't put it down.  I actually think it would make for a good movie too. Definitely recommended!
Music
Not a Love Song by bülow – totally digging the hook to this one – really catchy!
Zombie by Bad Wolves – a remake of the song of the same name by the Cranberries.  Awesome cover.
In my Blood by Shawn Mendes – a good listening/chill song with a little beat.
As always, love to hear what you've been listening to lately – tell me in the comments below!
Random
This test from Buzz Feed Food was kinda fun ("Are you a Canadian Food Expert").  I scored 6 out of 7…not too shabby.  How did you do?  What's your favourite Canadian food?  Speaking of which, I love ketchup flavoured chips.  Don't knock it 'til you try it. Those are delicious!
I came across the cutest shoes!  Wedges with a bow-tie!  Totally have to get these for the warmer months ahead.
Hope you've enjoyed my monthly round up and favourites for May 2018! Tell me, what's some favourites of yours this past month?
Until next time, take care and chit chat again soon! Don't forget to subscribe below to stay in the loop on all the latest recipes 🙂
~Dawn