Burgers, salads, frozen treats and more!  June sure was a tasty (and busy) one!  Grab yourself a coffee, sit back and let's take a look at what's been happenin' at Girl Heart Food this past month!
RECIPES I'VE POSTED THIS MONTH
Mortadella Sandwich – An easy lunch option made in about 10 minutes!  This mortadella sandwich is piled high with mortadella (of course), roasted red pepper, banana peppers, onion and tomato for one delicious bite!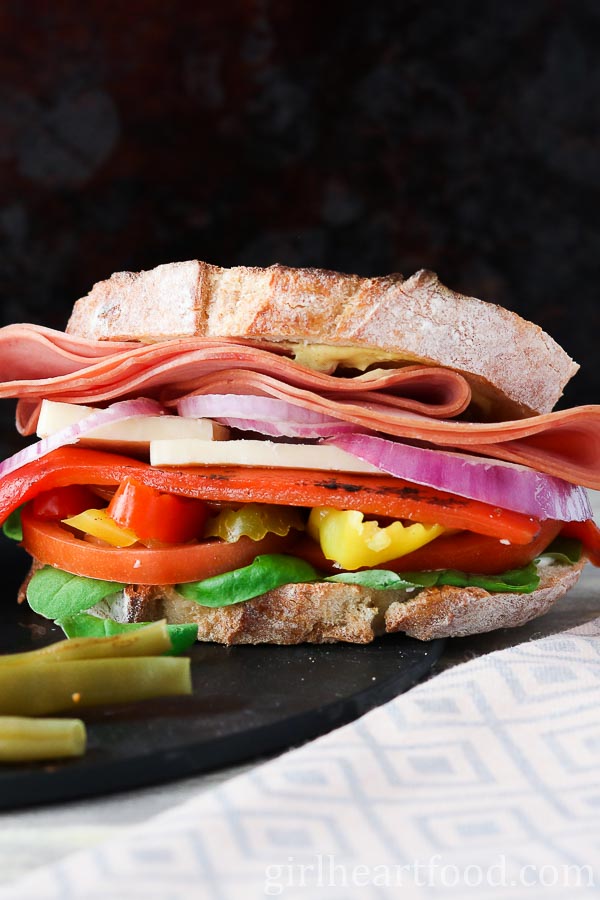 Peanut Butter Nutella Nice Cream– Who knew that ice cream made with frozen bananas could be so creamy?!  This one is flavoured with Nutella and Peanut Butter and you're probably not gonna want to stop at one scoop 😉
Black Bean Burger – These easy black bean vegan burgers are simply made and freeze well for busy weekday dinners.  Garnish to taste!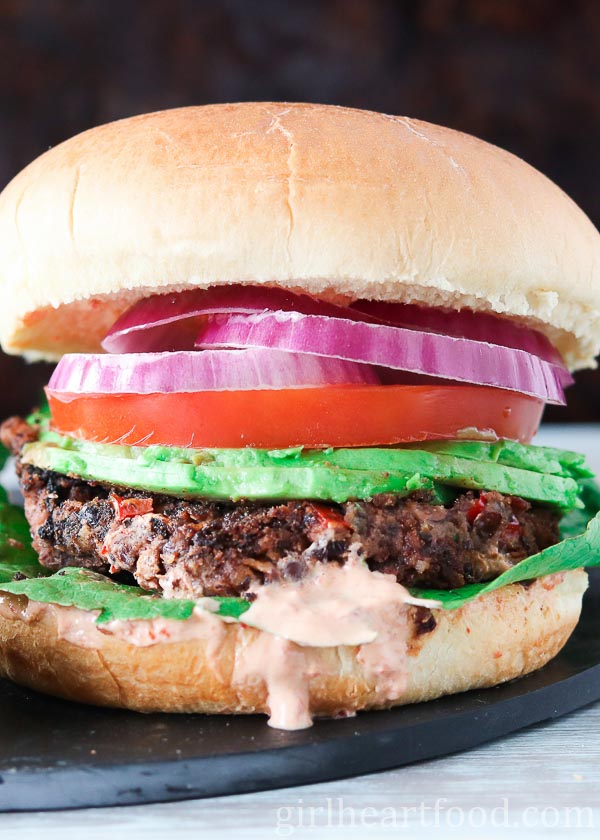 Cumin-Lime, Black Bean Quinoa Bowls – This easy bowl is from the cookbook From the Kitchens of Yamchops.  Check out this recipe and review!
Mediterranean Lentil Salad – I love making this hearty salad on Sunday for easy weekday lunches.  It's made with some pantry staples along with a few special ingredients and never disappoints.  It's a favourite in our home.
Cherry Vanilla Ice Pops – Made with only 4 ingredients, these ice pops are necessary for warm summer days!
Ultimate Round-up of the Best Rib Recipes, Sauces + Spice Rubs – Love ribs?  Well, this round up is for you!  There's 20 rib recipes, along with sauces and spice rubs.  There's something here to keep ya going all summer long!
The Best Chunky Potato Salad –  Who doesn't love a good potato salad?  This one is made with all sorts of yummy ingredients that you probably have on hand.  It's perfect for summer bbqs.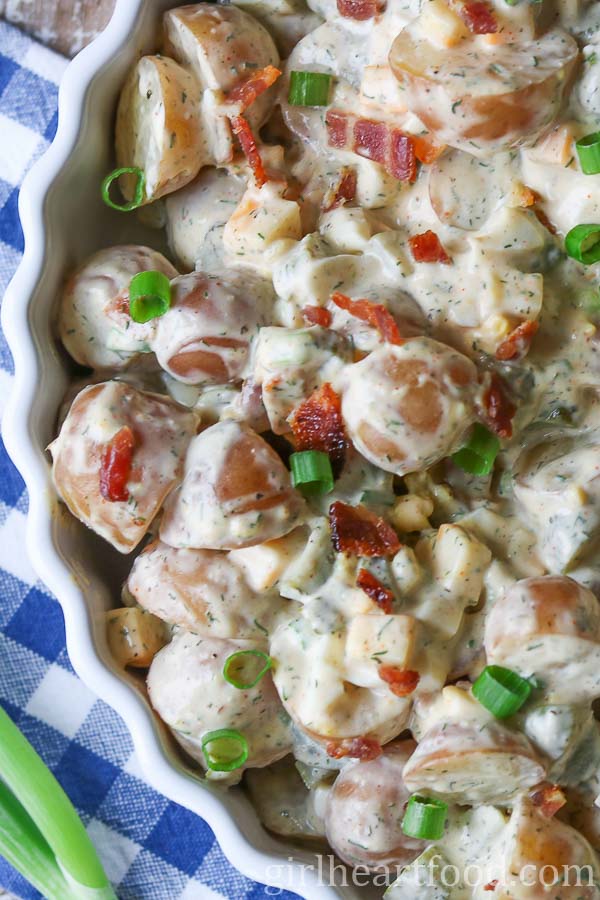 TV/SHOWS/MOVIES
Hubby and I love the Incredibles move.  So, naturally, we had to go see Incredibles 2.  Have you seen? It's a cartoon, but so funny and definitely enjoyable for adults and kids alike.  I already want to watch it again!
I've been watching ShadowHunters  on Netflix and have been slightly obsessed.  It's a supernatural drama series with vampires, werewolves and more. It may not be for everyone, but if you are a fan of that kinda thing, you may want to check it out.  There are three seasons and they are ending the series with a movie (not yet out).  It's great to watch when I'm working out….totally makes the time go fast!  Fun fact – one of the actors in ShadowHunters, Isaiah Mustafa, is cast in the next It movie….you may know him as the shirtless guy from the 'Old Spice' commercials a few years back.
MUSIC
This is what I've been kickin' it to this past month.  And when I say 'kickin', I basically mean singing in the car and listening to as I'm doing odds and ends around the house 😉
Delicate by Taylor Swift
No Roots by Alice Merton
Ahead of Myself by X Ambassadors
As always, hit me up with your favourites songs and artists!
RANDOM
Can you freakin' believe it's July?  I can't!  Summer has officially started. Our rhubarb is well underway and our chives are growing like crazy!  We planted some cauliflower seeds.  It appears we may only get one head of that, if we're lucky.  This one was a first for us.  If it does grow, rest assured we'll make something special!
Hubby and I are taking next week off to have a little staycation vacation.  Fingers crossed for nice weather!  We plan on checking out some yummy local restaurants, go for a picnic and see some movies.  Oh, and there's a new local brewery opened up in Dildo, Newfoundland.  No, that is not a typo.  This is a legit, real town in Newfoundland. The brewery is called Dildo Brewing Co. and Museum.  Apparently, they have some unique beers. For example, they have a blueberry blonde ale and an Irish red made with beets.  Can't wait to try!
Basically, next week we plan on enjoying each other's company and relax.  Do you have any summer plans? Check on my Instagram stories cause I'll be posting some of the shenanigans hubby and I are up to.
You may remember me mentioning a little while ago I got myself a new piece of exercise equipment – a cycle. First I thought that my buns were gonna fall off cause the seat is so hard….not that I don't have cushion, if you know what I mean, lol.  I got myself a gel seat and now it's the best kind!  I love it and talk about a work out!
For my American friends, I'd like to wish you a happy 4th of July!!  Anything delicious planned?  I'm sure there will be grilling involved.
Little fella (Riley) had a hair cut this past month. Hubby and I cut him.  Fun times for me, I tells ya, lol!!  He is lookin' good though! P.S. Don't tell me he doesn't know when he is getting his pic taken 😉
Tell me, what has been some favourites of yours this past month?
Until next time, take care and chit chat again soon 🙂
~Dawn