Holy moly batman, it's August!  Mind blown!  As always, this month was crazy busy.  I can't believe I'm starting to think of fall-ish recipes for the weeks ahead.  As you are reading this, hubby and I are off on week two of our staycation vacation.  It's a special week for us (more on that below).  I'd normally say grab and coffee and tuck in for a nice read but it's far too warm, so how 'bout a lemonade or infused water? Let's get to it with this Monthly Round up and Favourites July 2018!
Recipes I've Posted this Month
Very Berry Cherry Smoothie Bowl – This Very Berry Cherry Smoothie Bowl will be your go-to this summer when you are looking for an easy, tasty meal or snack.  The base of this cherry smoothie bowl has only three ingredients – cherry, banana and vanilla almond milk.  Then, garnish to your heart's content with the freshest cherries and berries!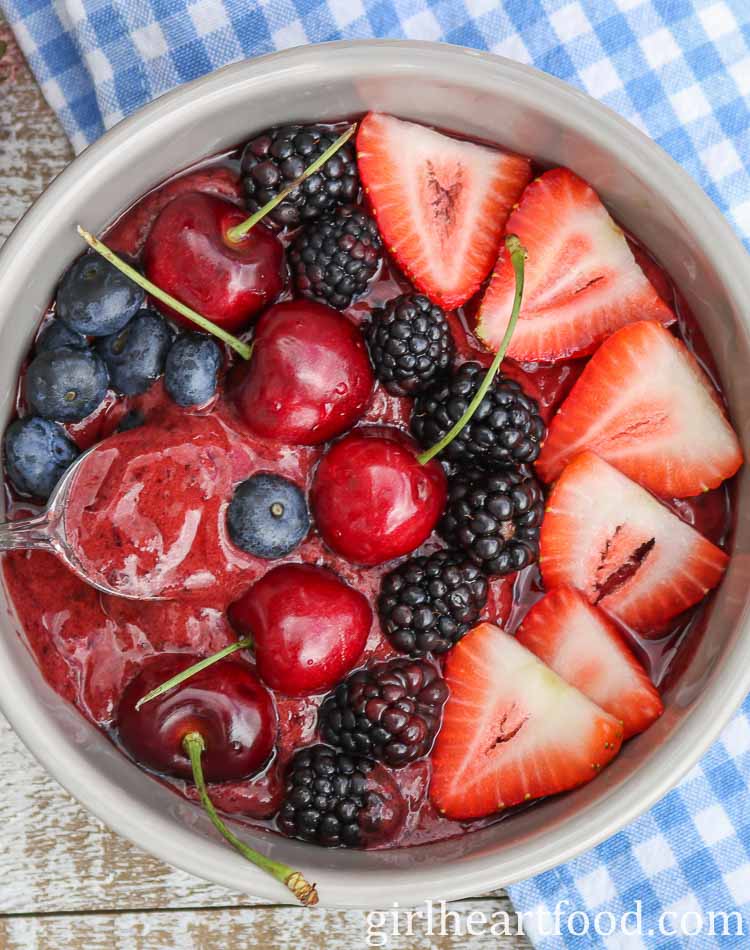 BBQ Chicken Flatbread Pizza – Forget delivery and make your own flatbread pizza recipe in minutes with this easy peasy straight-up-delicious BBQ Chicken pizza.  With about 15 minutes from prep to cook time, you'll be sure to make this one over and over again. It's that good!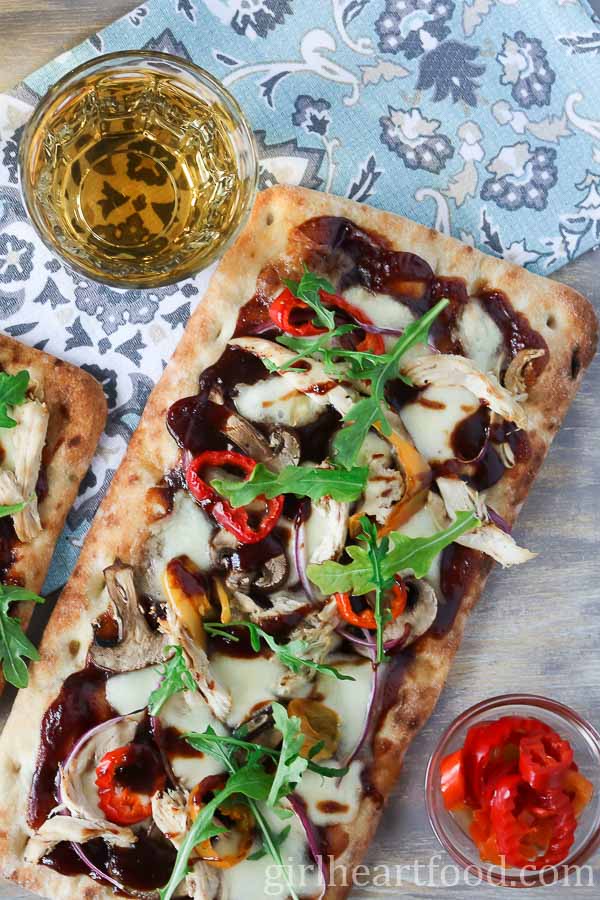 Grapefruit Rosé Sangria – This Grapefruit Rosé Sangria has everything you want in a summer cocktail – it's refreshing, delicious, not-too-sweet and packs a sucker punch to the taste buds! Great for bbqs and deck parties!
Strawberry Mango Kefir Ice Pops – These Strawberry Mango Kefir Ice Pops are an easy summer dessert recipe that can be whipped up in minutes.  They are creamy and loaded with goodness from only 4 simple ingredients.  Did I mention they're also refined sugar free and gluten free?
How to Make Lemon Curd – Ever wonder how to make lemon curd?  Look no further! With just a handful of simple ingredients you could make your own lemon curd from scratch.  It's beyond easy!  This one is tart, not too sweet and ultra lemony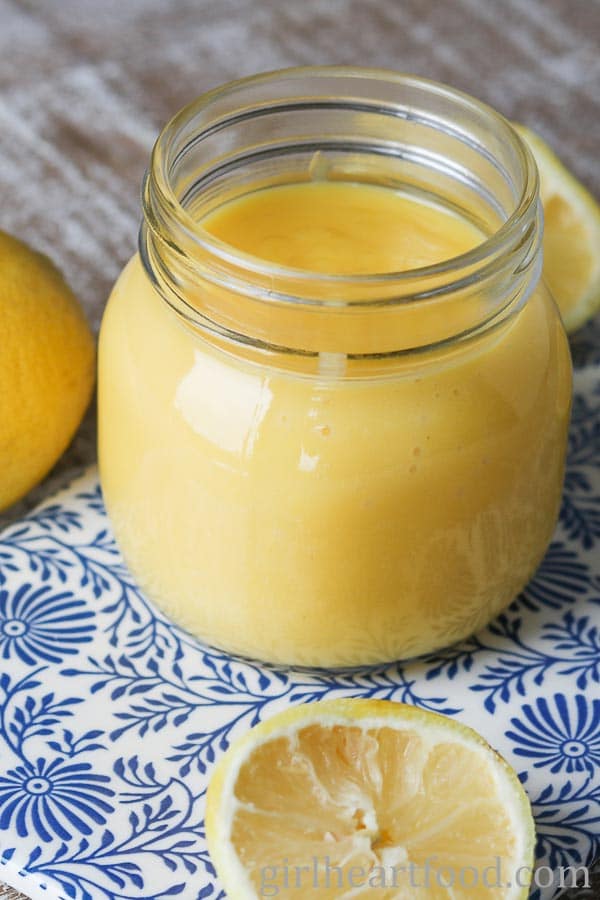 Roasted Blueberry & Whipped Goat Cheese Crostini – Juicy roasted blueberries, creamy whipped goat cheese, lemony olive oil and freshly chopped chives comes together for one delicious little bite with this ultra easy crostini recipe.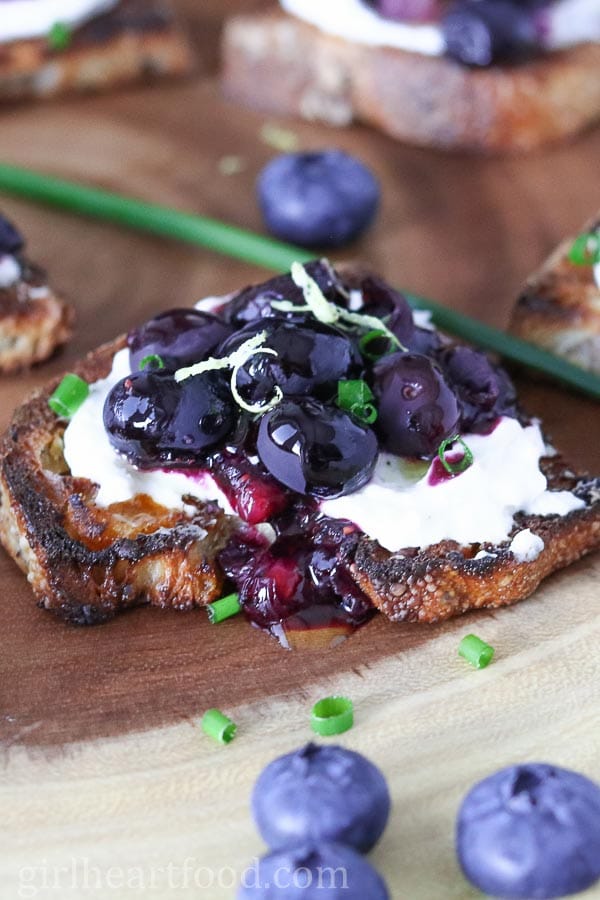 Other Yummy Recipes
This past month I tried a couple of recipes from fellow food bloggers and boy were they delish!
Asian Quinoa Slaw with Sesame Ginger Vinaigrette from The Kitchen Girl – this salad yielded quite a lot and it was SO good!!  I took the suggestion and added some edamame and kale.  This one would be awesome for meal prep on Sunday for easy weekday lunches. Definitely would make this one again!
Baba Ganoush (Roasted Eggplant Dip) from Low Carb Maven – Roasted eggplants flavoured with cumin, lemon, garlic and Greek yogurt yields quite a creamy dreamy, tasty dip.  I garnished with chili oil for a little extra punch and it was fabulous. This one didn't last long in the fridge.
Music
So, I'm currently obsessed with these tunes (that is, until I play them so much that I can't here them ever again, lol) –
Ain't Easy – The Launch by Elijah Woods x Jamie Fine
I created a 80's pop music list from Spotify and have been lovin' it!  I don't think I've enjoyed 80's music as much as I do now!
Books
I was at Winner's the other day and randomly came across this book called The Butler Speaks – A Return to Proper Etiquette, Stylish Entertaining and the Art of Good Housekeeping – I know, strange right?  It's a revised and updated version of an older book. As I was flicking through it I thought it would be a great coffee table book.  There's all sorts of little fun tips like how to fold napkins, various table-settings, how to place your knife and fork after finishing a meal and even how to eat sushi.  For example, didya know that nigiri sushi (raw fish on rice) is traditionally eaten with your fingers and not with chopsticks?  Side note—> I can not for the life of me use chopsticks so I am LOVIN' this!
TV Shows/Movies
The Great British Baking Show is back on! The majority of hosts are new, aside from Paul Hollywood, but I gotta say I do like them.  This show always inspires me to bake.
Guys, I'm watching The Vampire Diaries on Netflix.  I'm a little late to the party with this one because the show has been on for years.  Positive note – now I could totally binge watch it!  So entertaining and love watching it on the treadmill.  After finishing all three seasons of Shadowhunter's I think I really have a thing for these vampire shows, lol.
A Fun Personal Story
Sharing something with you guys that I haven't before on the blog!  So, this week hubby and I are off for part two of our staycation vacation.  We always take that week off.  Why?
Because it's our BIRTHDAY this week!!!
Something that you do not know about me is hubby and I share the same birthday.
Well, not only the same day, the same year.
Actually, we were born only minutes apart from each other!
Hubby and I are from the same hometown.  One summer day way back when, my  hubby's mom saw my mother and father driving past.   Hubby's pregnant mom thought 'she must be in labour and heading for the hospital.' A little while later hubby's mom was in the hospital too.
Minutes apart, the nurse brought both of us out to see our respective families.  Shocked, my father thought he had twins! Nope! Me and some random kid, lol.
Fast forward 15 years later and we started dating.  Fast forward well over another 20 years and here we are.
Long story short we will never forget each other's birthday and it's always a special celebratory day for hubby and I. Pretty neat, huh?
Anyways, hope you've enjoy my monthly faves for June! What has been some favourites of yours this past month?
Have a wonderful week…..I know this little guy will.
Until next time, take care and chit chat again soon 🙂
~Dawn
P.S. Don't forget to follow my on Instagram!  I'll be posting lots of foodie pics and the like for our staycation.
P.P.S  Isn't this chive flower so pretty?!