Is your mind blown that it's the end of February?  The start of 2019 seems like it was yesterday and in some other way feels like it was forever ago.  Well, we are closer to spring now than winter so that's definitely a positive. Tomorrow is March 1st!!! We've been having an exceptionally cold winter and I'm so over it.  I've been putting a little brightness into these drab winter days with lots of colourful garnish on my food. How about you? Settle in and let's get to my monthly round up and favourites February 2019, shall we?
Recipes Shared This Month
Easy Chicken Pot Pie – Using leftover chicken (or turkey) this pot pie is such a comforting dinner! With the addition of sweet potato and cranberries, it makes for a lovely twist.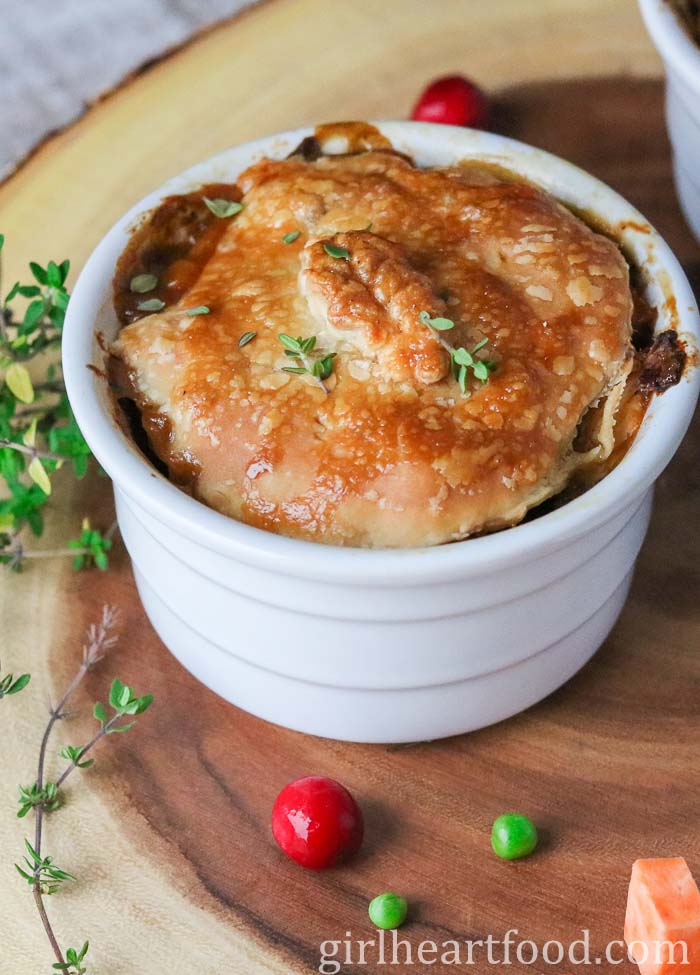 Creamy Stovetop Mac and Cheese – This super creamy stovetop mac and cheese is made with truffle cheddar (though you could use whatever cheddar you have on hand). It comes together super quickly and makes for a delicious dinner or side dish.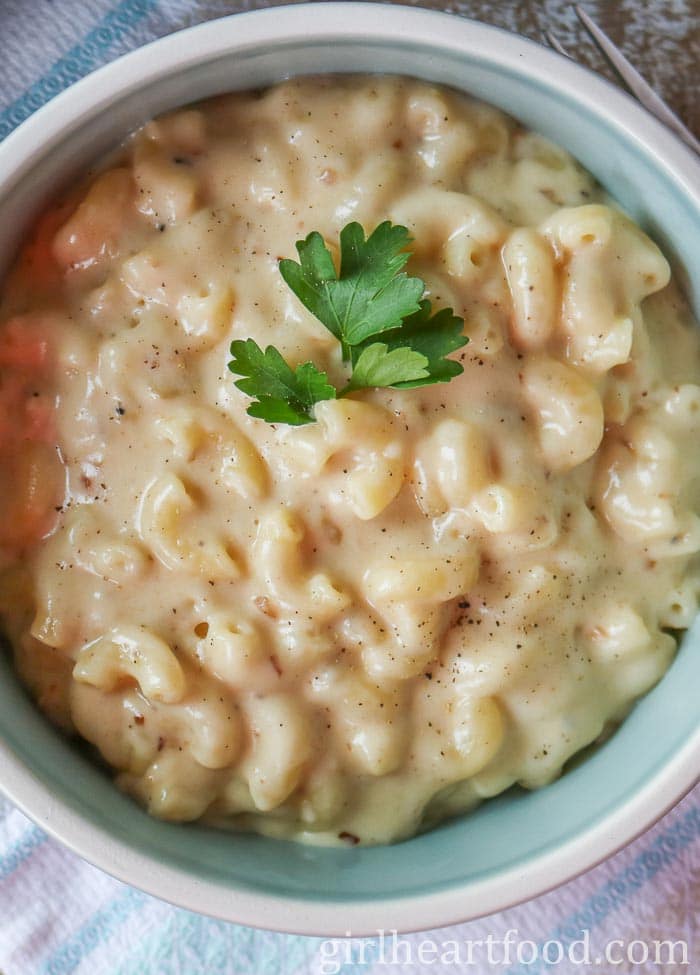 Cauliflower Leek Soup with Cheddar – Roasted cauliflower gives this soup a wonderful depth of flavour.  It's super creamy (without using cream) and makes for a great meal prep recipe for the week ahead.
Easy Shrimp Tacos – On the table in about 20 minutes, these easy shrimp tacos with slaw is a favourite in our home.  Not just for taco Tuesday!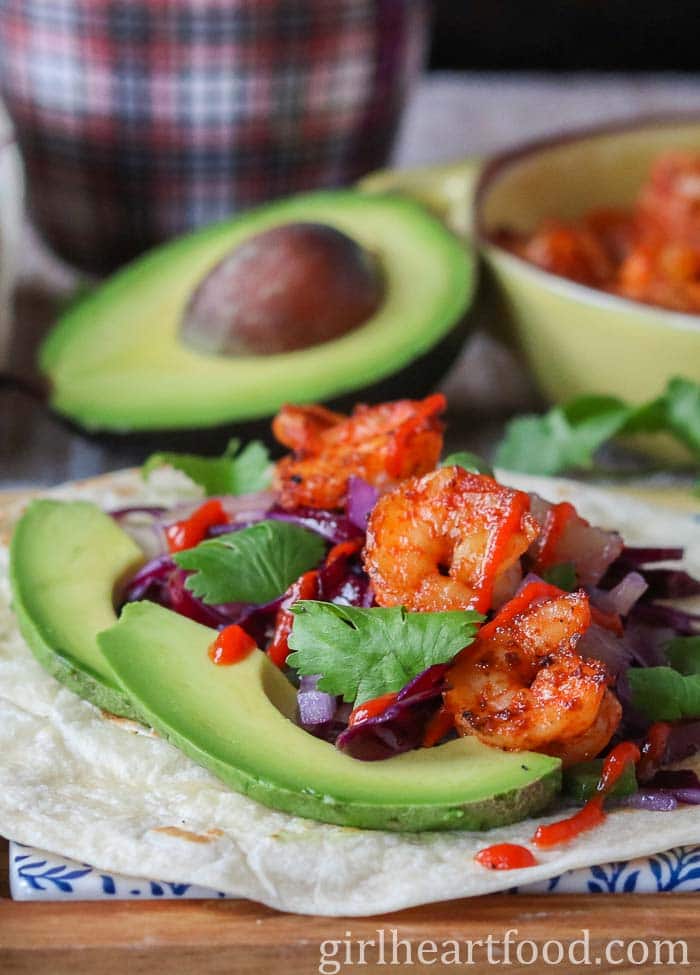 Chicken Taco Soup – Tacos in a comforting soup form, perfect for those cold winter days. Garnish with as little or as much toppings as you please.
Mediterranean White Bean Dip – Super creamy and budget friendly this white bean dip is made in about 10 minutes.  Makes for easy (and healthy) snackin'.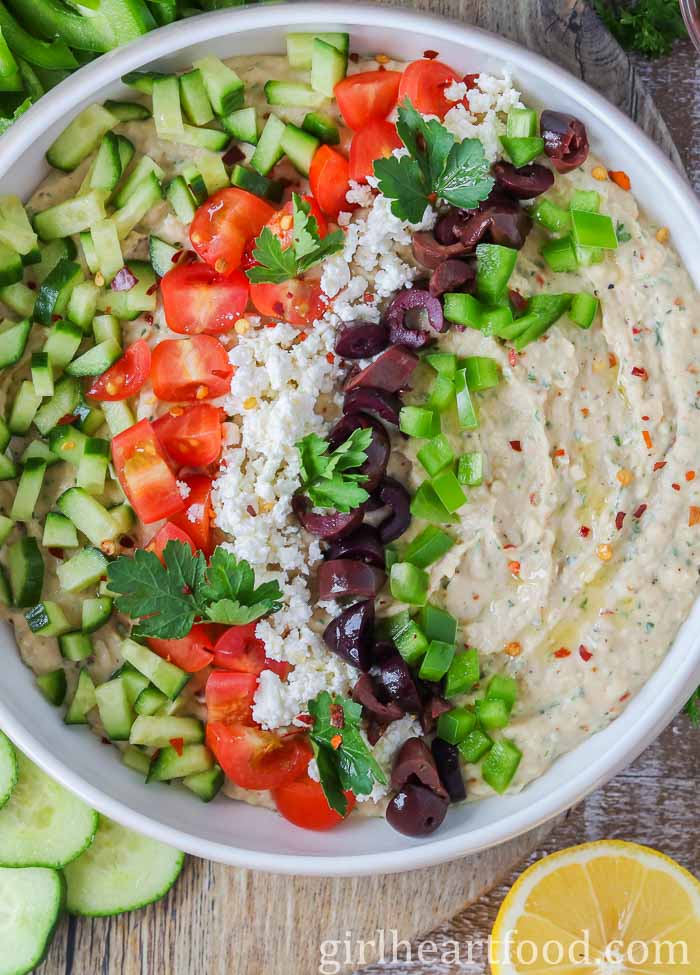 Instant Pot Pork Carnitas – Tender pork that's crisped and piled high on a tortilla makes for one belly satisfying bite.  Keep the sauce to drizzle over top.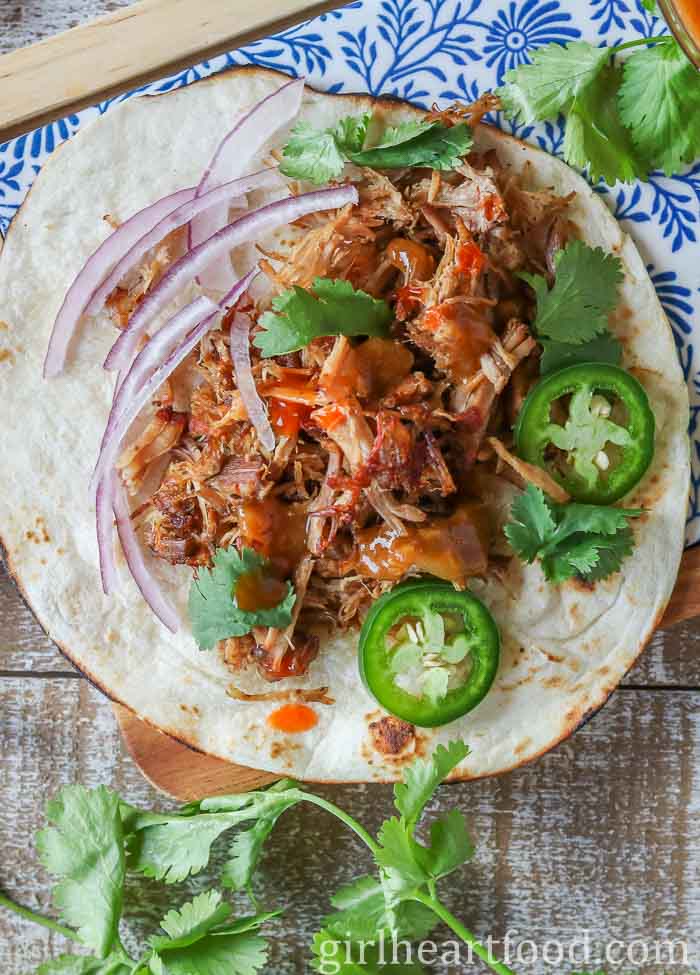 What's Popular Right Now
This month you guys have loved my Baked Blueberry Donuts! And for good reason! If you have frozen blueberries on hand from the summer months, break out that donut pan and put on the coffee!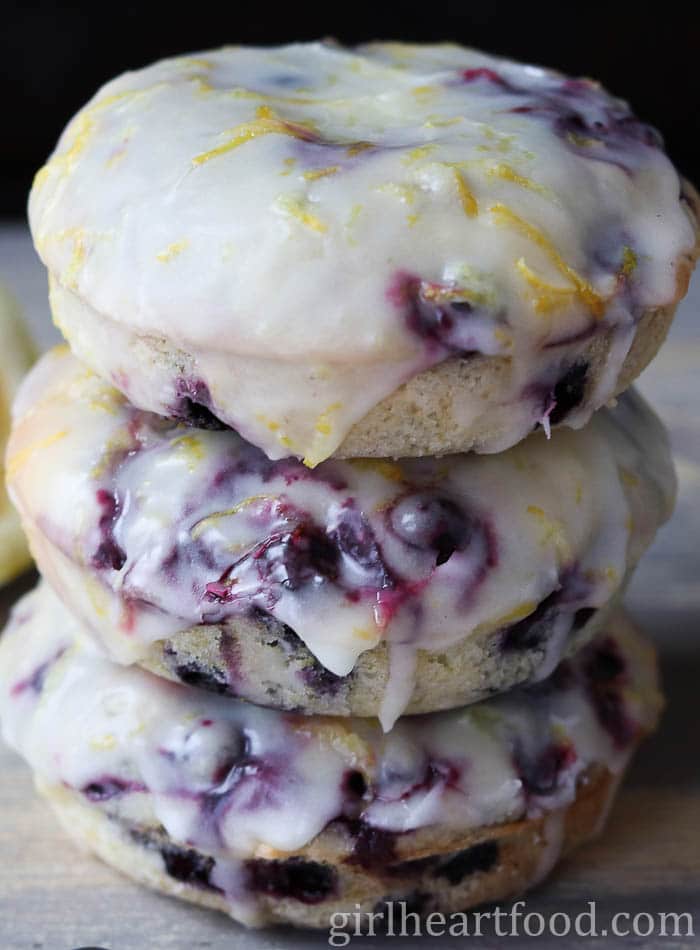 Movies/TV/Shows
It's Alive with Brad Leone (a Bon Appétit series on You Tube…it's a test kitchen, actually). This guy is chocked full of personality and with all the fun sound effects in this show, it's sure to make you laugh (and learn something along the way). I really recommend this one, you guys. He is totally into fermented stuff, but much more than that.
Russian Doll on Netflix starring Natasha Lyonne recommended by my friend, Karrie, from Tasty Ever After. This is a drama/comedy and is quite interesting.  The star  attends her birthday party, dies, and then wakes up and relives the day again. It's kinda like Ground Hog Day with Bill Murray, only more serious.
A new season of Chef's Table is back on Netflix. If you love food and talking about food as much as me, this is a must see! Always makes me hungry.
I watched Book Club starring Diane Keaton, Candice Bergen, Jane Fonda and Mary Steenburgen.  Such a fun little show!  There was a lovely line in the movie too, as said by Candice Bergen's character….went something along the lines of 'love is just a word until you give it meaning'. I thought that was sweet.
Music
'Sunflower' by Post Malone and Swae Lee
'This Feeling' by The Chainsmokers featuring Kelsie Ballerini
I don't know if it's because I'm getting older or what, but it's hard to find good music!!  What have you guys been enjoying lately? I need some new songs for my playlist!
Random
I've been enjoying infused waters lately. Latest favourite flavour combo? Sliced strawberries, cucumber + lime with lots of crushed ice, not cubed. So refreshing!
As some of you may know, Riley had a birthday this past month and turned 9!  His new favourite thing? Dried sardines! We came across them at the pet food supply store and he devours them.
Also, did you know that if you drop a mason jar it breaks into what seems like a million pieces.  Yeah, I did that, lol.
I read recently about trying coconut oil in coffee. Have you tried? It's quite good! Also, have you tried organic coconut oil as a moisturizer? Talk about relieving for dry skin, especially in the winter months. And, bonus, it's natural!
Hope you've enjoyed my monthly round up and favourites February 2019! Stay tuned for a yummy recipe coming up on Sunday!
Tell me, what has been making you happy this past month?
Until next time, take care and chit chat again soon,
~Dawn