~ Monthly Favourites May 2017 ~
Monthly Favourites everyone!  May passed by so fast, didn't it?   I'm wondering where the heck spring is.  Just the other day, I heard someone on a local radio station call our season 'sprinter' cause our spring is like winter. Ha! Funny, but sad.  Aside from that, the month has been great!  We got a new 50,000 BTU propane fire pit that looks gorgeous and I'm dying to try it out.  I'm dreaming about hubby and I sitting on the back deck with that baby going on a random Friday or Saturday night, bbq, maybe some music on the go.  Picking up what I'm throwing down, lol?  I know you are.  Anyway, onto the good stuff (there's a lot this month)–>
THINGS I'VE POSTED THIS PAST MONTH –
Frozen Strawberry Mango Margarita –  I prepared this recipe for Cinco de Mayo, but it is totally perfect for backyard summer parties just chilling on the deck.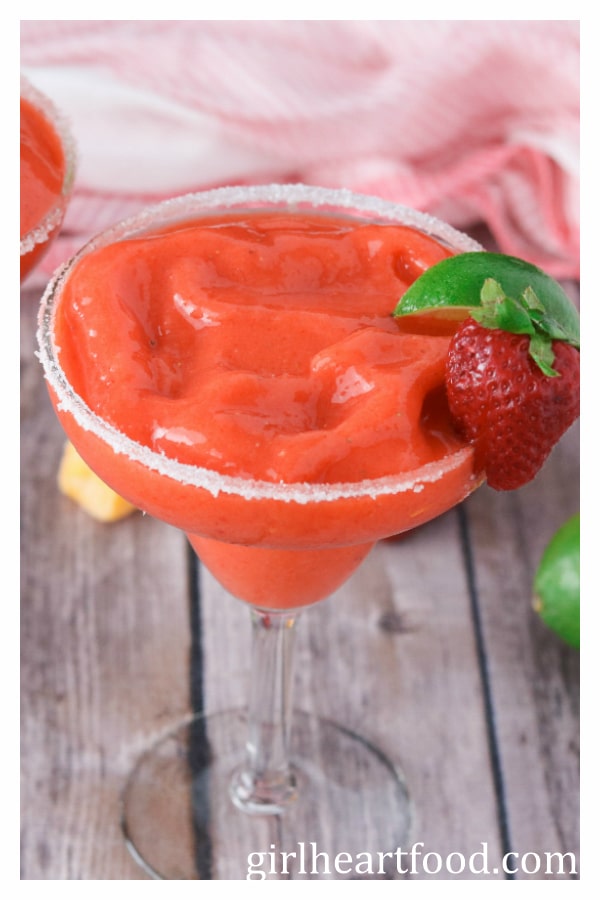 Dark Chocolate and Coconut Roasted Almond Butter –  This is so unbelievably easy to make and ultra satisfying.  There's no going back once you make your own nut butter.
Creamy Blue Cheese and Mushroom Pasta – This post was sponsored by Dairy Farmers of Canada and featured Dragon's Breath Blue Cheese – boy, did I love this one.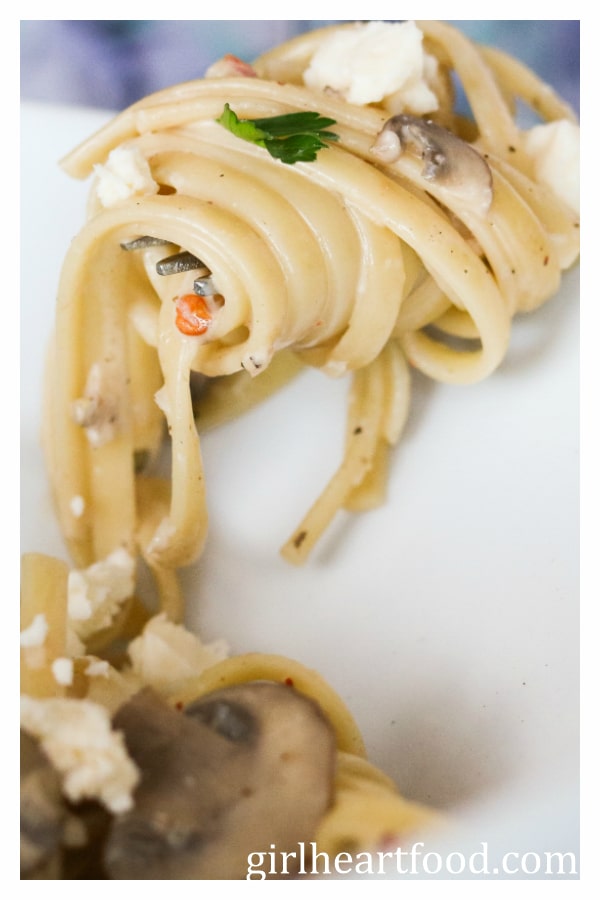 Baked Coconut and Lemon Donuts – In under 30 minutes, these can be prepped, baked, glazed and in your belly.  Who needs a coffee shop?  Plus, baked donuts don't have any calories #JustKiddin'.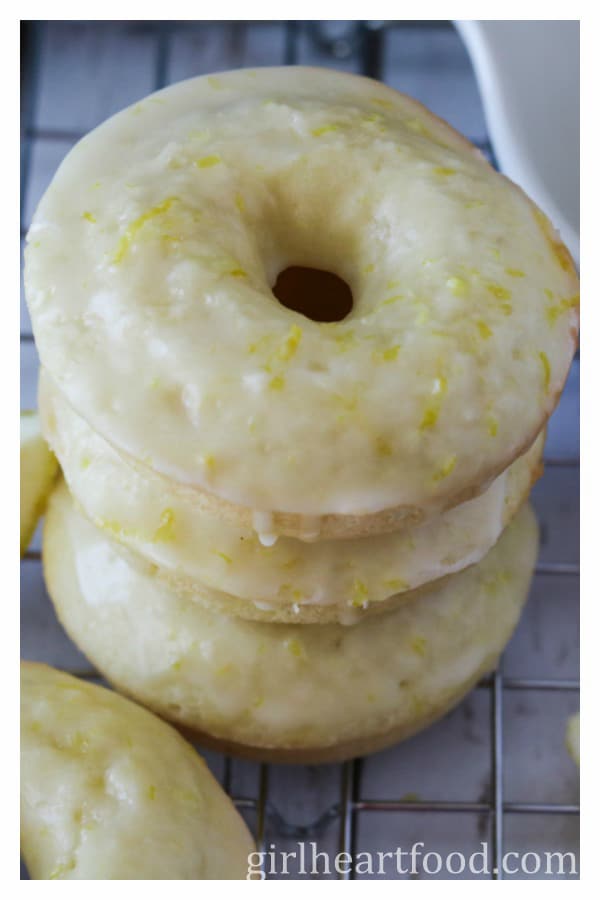 Greek Pasta Salad – I received some  free product samples from Barilla for this one; it's a super quick recipe, like 10 minutes.  Awesome by itself, but also good with some grilled chicken for extra oomph, ya know?
FOOD & FOOD RELATED SHINANIGANS –
Are you an Anthony Bourdain fan? I know I am; I just read an interesting short article on MSN about what he eats on planes.  So, it's cheese and port.  That's it.  He doesn't care for airplane food and likes to arrive at his destination hungry.  Sounds sensible to me.  I don't know about you, but I could live on cheese and wine.  Might be a problem for the figure, but if calories didn't count, boy, I would eat so.much.cheese.  Do you eat food on airplanes?  If so, what's your go-to?
I tried duck again at a restaurant (just the wing and kinda like buffalo-wing style) and I have to admit, I didn't not like it.  You may or may not know, but I'm not a fan of duck.  I mean, I'll eat it if it's presented in front of me;  if I go to someone's home and they are serving it I'm not gonna push it to one side like a total picky pants.  Totally thinking of trying again.  Anyone have any good recipe suggestions? You may totally convert me!
The following are some kick a## recipes that I love from awesome fellow food bloggers; I know you'll enjoy 'em too!
Homemade Ramen Noodles from Pinch and Swirl – We (hubby) made these noodles and let me tell you that there's absolutely no going back to pre-packaged ramen noodles when you have homemade.  It just takes ramen to a whole new level.  So so good! Marissa's recipe is simple to follow and she even has a video on her site showing the process.  Check it out!
Key Lime Pie with Macadamia Nut Crust from Sally's Baking Addiction  – I'm a huge fan of citrus and this one is just calling my name.  And who doesn't love a good pie?  Plus, a rich crust with macadamia nuts?  Two slices please!
TV SHOWS/MOVIES –
Downward Dog on ABC – Are you a pet lover?  Don't you ever just secretly wish that your pet talked to you?  I sometimes do, but, then again, I wonder would he ever stop?  He would constantly be asking me for a treat, I know it.  That little guy has me wrapped around his little paw.  What a sucker I am.  This show features a woman and her dog.  The dog doesn't actually talk to the female lead or anything, just to the audience and it is such a cute, loveable show.  And then, there's this evil cat, lol.
Unbreakable Kimmy Schmidt, Season 3 was just released on Netflix.  I've mentioned previous seasons of this show before.  Have you watched?  I love it; it's a little (ok, a lot) over the top, but definitely a feel good show that's sure to put a smile on your face.
 Master of None on Netflix starring comedian Aziz Ansari.  I was listening to a local radio station the other day (apparently I do that a lot) and heard one of the hosts talk about this show.  It's a comedy and hubby and I gave it a go;  we blew through the entire two seasons that are currently available over two nights.  We loved it and now we can't wait for the next season.  Found out after flying through season 2 that it was only just released in May so we may have to wait a while to see the next season.  Whomp whomp.
One of my favourite movies is the cartoon Ratatouille.  It's a foodie movie.  Hubby and I recently watched it again for the millionth time and never tire of it.
 MUSIC –
'Shutter Island' and 'Figures' by Jessie Reyez.  I really enjoy the tone of this singer's voice and the lyrics are pretty interesting too.  I must admit, I did enjoy this more than hubby did.  I guess everyone has their own taste in music!
'Most Girls' by Hailee Steinfeld.  Such an upbeat, positive song and we all know the world could use a little more of that, right?
 RANDOM
In grade school, and even university, I enjoyed studying French.  I pursued another major in university, but just recently hubby and I picked up the Rosetta Stone language program and we are going to give it a go.  We're going to designate some time each week to practice so totally looking forward to that.  Be prepare for the occasional French expression.
So, tell me, what has been some favourite of yours this past month?  I'd love to hear!
Hope you enjoyed my May Favourites May 2017!  Until next time, take care and chit chat again soon.  Have a great weekend!  See ya back here next week 😉
~D
P.S. If you missed my last monthly favourites, you can check it out here.