Monthly Favourites March 2017
Ok, I'm going to blow your mind right now, you guys.  Can you believe that basically a quarter of 2017 has passed already?  I'll just give you a minute to process that while I go grab a cookie………
Are you ok?  Are you still with me?  I know, I know.  I can't believe it, either.  March was a rough one for us weather wise.  One minute it was nice and sunny and promises of spring and lovely weather were in the air.  Then? Then, it was crazy winds and bitter cold.  Mother Nature played tricks on us round these parts.  Why you be hatin' on us, girl?
Anyway, let's get to it. Let's check out what's been happening around these parts, shall we?
THINGS I'VE POSTED THIS MONTH –
Shepherd's Pie with Guinness Lamb & Horseradish Mash –
Zucchini Noodle Curry Coconut Soup with Grilled Tofu –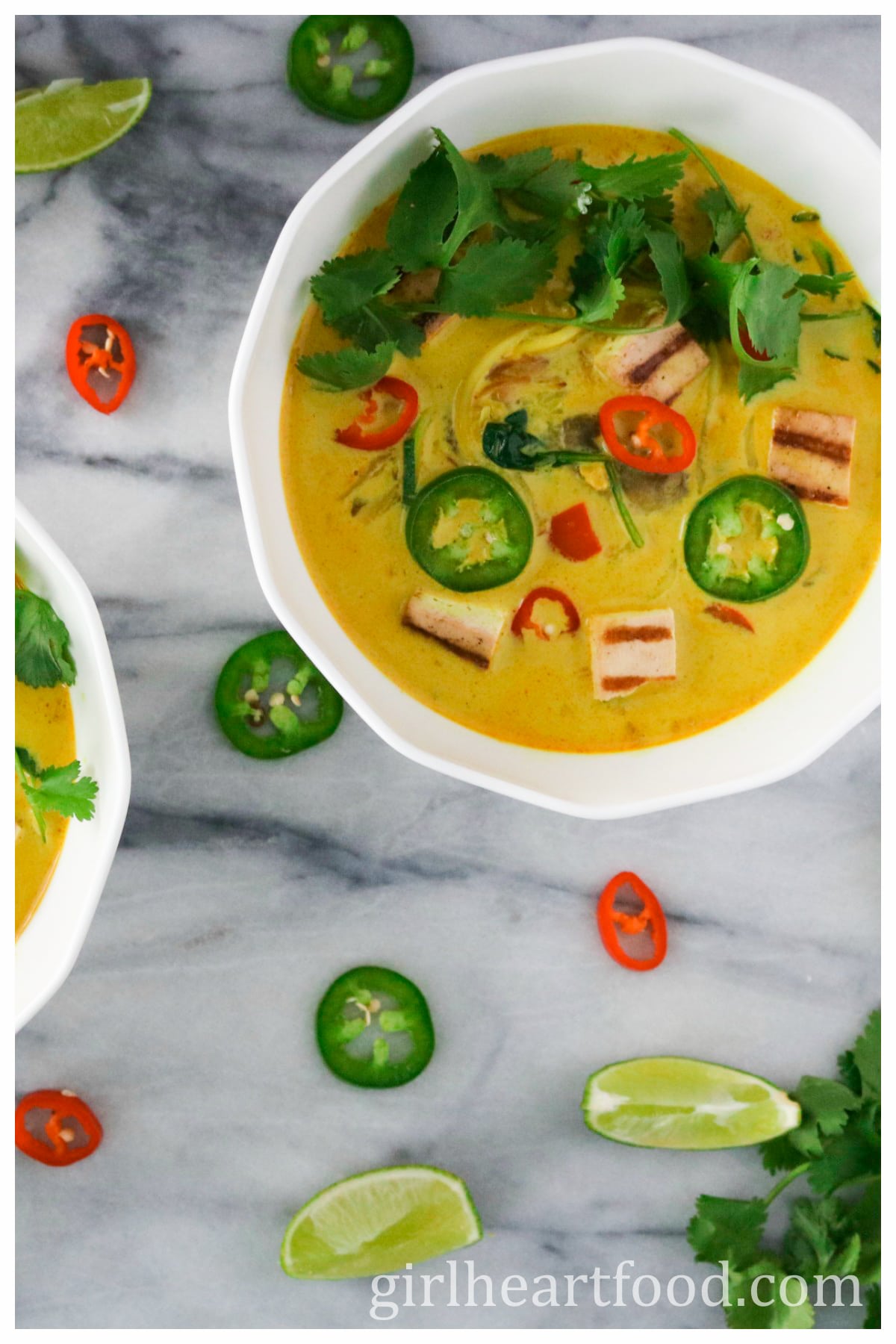 Coffee Donuts with Peanut Butter Chocolate Glaze –
FOOD & FOOD RELATED SHINANIGANS –
Blueberry Almond Biscotti from Ciao Chow Bambina –  Biscotti + hot coffee + Saturday morning…'nuff said.  Add blueberries and almonds to the mix and it's heavenly.
Easy Braised Lamb Shanks from Tasty Ever After. With all this cold weather we have been having, I will seriously face plant into this polenta and eat that lamb shank caveman style.  No lie.  Honestly, does the weather even matter?  If it were sweltering hot outside, I'd still eat this faster than you I can say 'I'm not sharing.'<—-really, don't ask.
TV/MOVIES –
Grace & Frankie Season 3 on Netflix –  I LOVE this show. It stars Jane Fonda and Lily Tomlin; they are friends and have opposite kinda personalities, but have so much chemistry together.  I laugh my little buns off every time I watch it.  I could quite literally start from season 1 and watch all over again….and probably still laugh at the same jokes!  So endearing.
Into the Badlands on AMC.  Like, whoa. Action packed to the max.  There's tough warriors.  There's  battles for land and all sorts of drama goin' on.   And the female characters?  They kick butt!  This one is not for the faint of heart.  It is graphic violence.  It has been such a long time since season one aired and I have been waiting so long for season 2 to be released.  It's wicked! By the way, you can binge watch season 1 on Netflix.
Logan – This is the final movie that Hugh Jackman (aka Wolverine) will be playing this character.  What a movie!  There's this little girl in the movie, played by a young actress, Dafne Keen, and I think she steals the scene every time she is there.  She's fierce, tough, and super cute.  Even if you aren't an X Men or Wolverine fan or aren't up to date on the series of movies, I think that this movie totally stands on its own.  I laughed, I squealed, I cried.  Now, that's a good  movie, don't ya think?
MUSIC –
Hubby and I don't really listen to much country music.  However,  just the other weekend, hubby turned on the music app Spotify and searched the classic country genre just to see what was there.  A song played by Dolly Parton called 'The Story' which was released in February.  You have got to listen to this song.  The words, the story, is beautiful.  I love it.  It's one of those songs that makes ya feel all kinds of warm, gushy feelings.  And, if I'm having a day (you know those), it just may make me cry in the best kind of way.
RANDOM –
Though I'm technically an adult, I'm pretty sure I'm not fully there yet (or, truth be told, ever will be).  Just recently there was a new Nintendo system released called 'Nintendo Switch' so I had to get my little hands on that…..you know, for nostalgia purposes and all (aka lies I tell myself).
The game I'm really looking forward to being released for this system is 'Super Mario Odyssey' (which is not out until December) #WhyDoIKnowThis?  So, until Mario's release, I purchased a Zelda game called 'Legend of Zelda – Breath of the Wild'.  It's totally a guilty weekend pleasure!  I was never a Zelda player, but now?  Loves it, I do.  It's an adventure game and apparently really big and takes a while to finish.  I'm not the best player in the world and pretty sure it'll be the only game I'll ever play 'cause it's taking me so long, but I am progressing and having fun. So………
Confession time!!—–>
I curse like a little sailor and freak out get feisty playing this game.  It's intense and there are monsters and I get so involved.  Hubby sits next to me on the couch looking at me like I'm crazy.  He is probably wondering 'who is this person??'  I'm sure he is going to hide the game away pretty soon, lol.  It's like the 1980's all over again with me playing Sega's Master System staying up late and then crying cause I have to get to the next level. Oh, memories.  But, I maaay have a problem.
BOOKS –
All is Not Forgotten by Wendy Walker.  It's a debut book for the author.  It's a fictional story and kind of dark, but I can't put it down.  It's about a young girl who gets attacked at a party and then she is given a drug to medically erase her memory of the attack.  Apparently, there is going to be a movie made out of this one.  I don't want to say too much about the book, but so far it is being told mainly via the psychologist who is treating the attacked girl.  Not exactly bed time reads, but such a page turner.
Hope you've enjoyed my Monthly Favourites March 2017.  And if you missed my last Monthly Favourites, you can check it out here.
So, tell me, what were some of your favourites from this past Month?  I'd love to hear about it!
Have a fabulously relaxing food-filled weekend!  Hope you get to chill out like this little guy; he knows how to do it!
~D