~ MONTHLY FAVOURITES for JUNE 2017 ~
Hey friends!  What's up?  This Monthly Favourites for June 2017 is coming a tad later this month; we just had a big celebratory weekend this past one for Canada Day and I was enjoying a little rest & relaxation.  No matter, though, better late than never, right?  There was lots on the go this past month so plenty to talk about.  Grab a coffee and let's get to it!
THINGS I'VE POSTED THIS MONTH
This one is made in under 10 minutes so perfect for Friday night eats!
Ultimate Caesar Cocktail
A Canadian classic – spicy, refreshing and a snack built right in!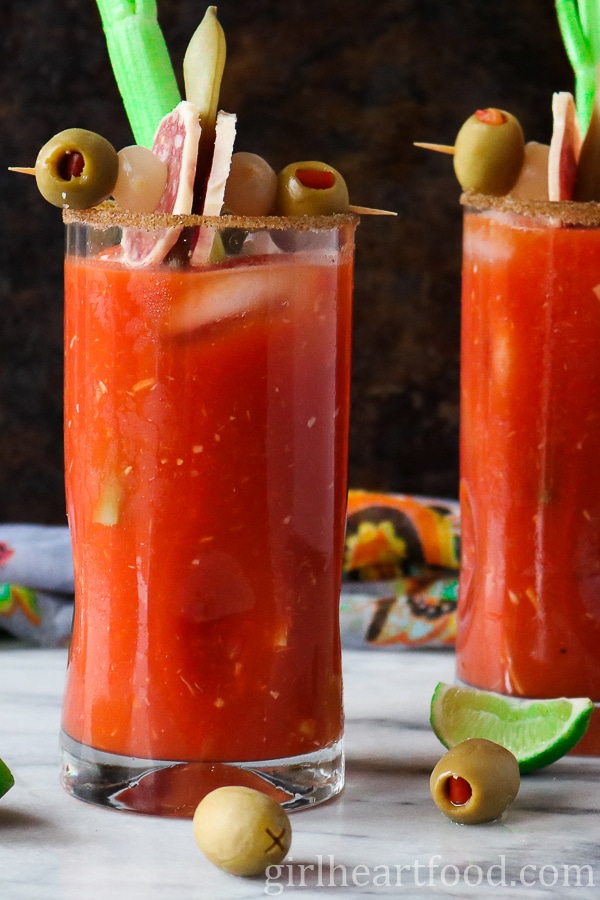 A fantastic recipe to make at the start of the week and enjoy throughout.  Plus, they are vegan and gluten free!
Baked Camembert with Berries, Thyme and Wine
Oozy, melty cheese…say no more, am I right?  I could make a meal out of just this.  P.S. this one is super easy to whip up when you have unexpected guests you want to impress 🙂
Recipes to Celebrate Canada Day
A round up of recipes from myself and fellow food blogger friends – these delicious recipes are pretty much awesome any time of year.  Personal fave?  Poutine!
Minutes to prep, the hardest part is waiting for them to freeze.  These pop are loaded with berries!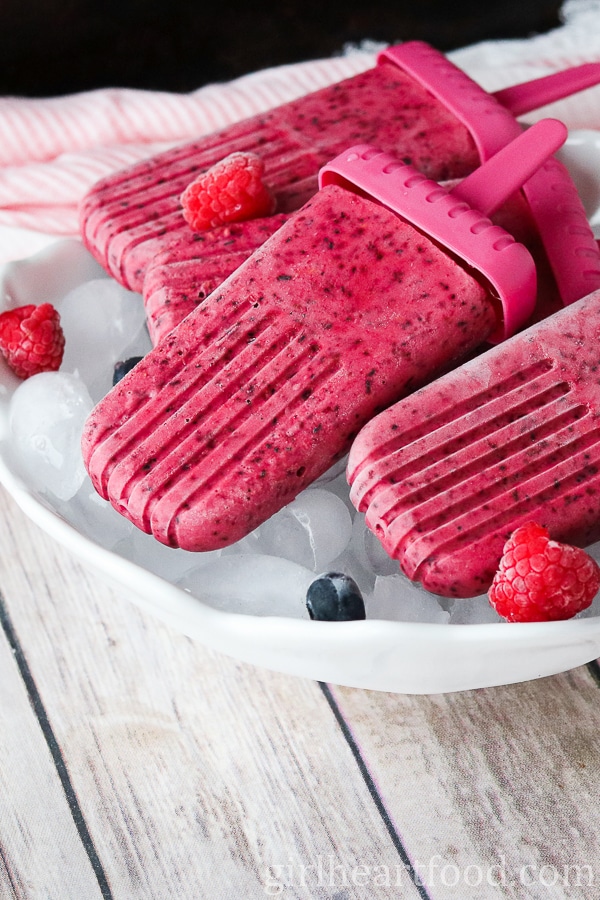 RECIPES I'M LOVIN' 
Here are a couple of fab recipes from friends and fellow food bloggers that I am diggin' right  now?
Classic New England Lobster Roll from Tasty Ever After  – this is a quintessential summer dish, if you ask me.  And Miss Karrie knows her way around seafood.  This one is deeeee-licious!!  Better not forget those chips, tho.  They are a lobster rolls bff.
Sicilian Tomato Pesto Trapanese from Sugar Love Spices – I haven't met a pesto I didn't like; so delicious on pasta, sandwiches, fish and chicken.  Pesto, is there anything you can't do??  Love this tomato based one.  Such a lovely twist from the classic basil based pesto.
TV SHOWS/MOVIES
The F Word with Gordon Ramsay on Fox – love this show!  I am a total fan of Gordon Ramsay and this reality show delivers!  Basically, the premise is that each episode there are two groups of people featured (usually each group is a family or a bunch of friends, and they make the same dish and serve to guests).  Gordon (cause we are totally on a first name basis 😉 #AsIf) shows how a dish is prepared – for instance, just think about how to cook a proper pork chop with a delicious pan sauce.  Don't miss this one!
Master Chef with Gordon Ramsay on Fox (told ya I like Gordon Ramsay (P.S. How many times can I say Gordon Ramsay in this post??)).  If you haven't seen this series before, it's basically home cooks competing against each other to win in a series of cooking competitions. It seriously amazes me how awesome some of these people are.  Would you ever try out for such a show?  I think I would be sooooo nervous and watching that timer count down?  I'd be a wreck!
Scandal with Kerry Washington on ABC.  Though, I am watching this on Netflix cause I am so late to this party.  Now I'm wondering what the heck I've been missing!  Like, seriously, how good is this show?  One thing good about being late to this party is I get to binge watch on Netflix without commercials #TheLittleThings.
I briefly mentioned this one before, but I'm obsessed with Love Connection on Fox.  It's a remake of the show from years ago and hosted by Andy Cohen; so, for those of you who don't know, it's a dating show.  I totally shouldn't watch it, but can't turn away.  Usually, I save it for the weekend.  I think for the most part it's more about drama or shock factor than any love connection, but it's  a good show if you want to have a chuckle and sit back with a glass of wine – basically, me on Friday??
We just went to see Baby Driver in theatre.  It's basically about a young getaway driver who loves music (I won't spill too many beans), there's tons of action and even a little romance.  What more could you want?  Sometimes, it's completely over the top, but it will definitely keep you on your toes.  I bet the soundtrack will be awesome too!
 MUSIC
As you probably know, I'm a big fan of music (who isn't, right??)  I usually play songs so much until I tire of them.  These three are pretty much on repeat these days?
'Bad Liar' by Selena Gomez – great song and cute video (she plays multiple parts).
'Despacito' by Luis Fonsi & Daddy Yankee (featuring Justin Bieber).  I love the vibe to this song and pretty much sing along every single time.  Also, I want to learn Spanish every time I pretend to know what I'm saying when I sing along.
"Slow Hands' by Niall Horan.  This is a groovy (do people really say that now?) song.  It took me a little to warm up to this one and now I love it!
What's on your playlist nowadays? Do tell!  I need some new songs to listen to!
RANDOM
Our rhubarb is reading for the pickin' (finally) so I will be making something with that real soon.  Did you know that rhubarb is, in fact, a vegetable and the actual leaves on the rhubarb plant are poisonous?!  But the edible part?  That stuff is yummy, especially when paired with strawberry?
Do you guys grow anything in your garden?  What works well where  you live?
I started making foodie videos?!  Woot woot!  It's quite the little time sucker, but it's a good thing I have hubby to help me.  Plus, it's fun having a little buddy 🙂
Hope you've enjoyed my Monthly Favourites for June 2017!
What were your favourites from this past month?  I'd love to hear!
Enjoy the upcoming weekend! May it be food-filled and relaxing?  I know that this little guy will be having a good time, getting into lots of mischief tearing out the stuffing in his toys?
Until next time, take care & chit chat again soon?
~D
P.S. If you missed my last monthly favourites, you can check it out here.