~ Monthly Favourites August 2017 ~
Hi everyone!  What's up?  How was your weekend? The weather was a bit sub par (raining) around here so it was a perfect time to stay home, catch up on odds and ends around the house and cook.  Actually, any weekend is a perfect time to cook if you ask me!  I was gifted with some gorgeous local chanterelle mushrooms from friends—> got home, the mushrooms were in a bag on my front step; you should have seen me! I literally did a happy dance.  The little things, right?  So, suffice to say, stay tuned for a recipe using those beauties.  August was such a busy month with lots of good eats; let's have a little recap, shall we?
THINGS I'VE POSTED THIS MONTH
Strawberry Rhubarb Crisp –  a super easy dessert perfect for entertaining and delicious with ice-cream (what isn't 😉 )?
Ultimate Cheeseburger –  One of my favourite things to make (and eat) is a cheeseburger.  This one is loaded with cheese and a really good roasted garlic mayo (that stuff would probably taste good on just about anything).
Mint Chocolate Nice Cream – Kinda like your favourite ice-cream, but better for ya!  You can definitely go ahead and eat two, no three, scoops of this one 😉
Creamy Orange & Vanilla Smoothie – This one tastes like a favourite childhood treat in a healthy smoothie form.  It's a really good way to start your day.  Makes Monday a little more bearable too, 😀
Mixed Nut & Seed Butter – Make your own nut and seed butter in under 15 minutes.  This has no weird ingredients, just good for ya stuff you can pronounce.  My kinda thing!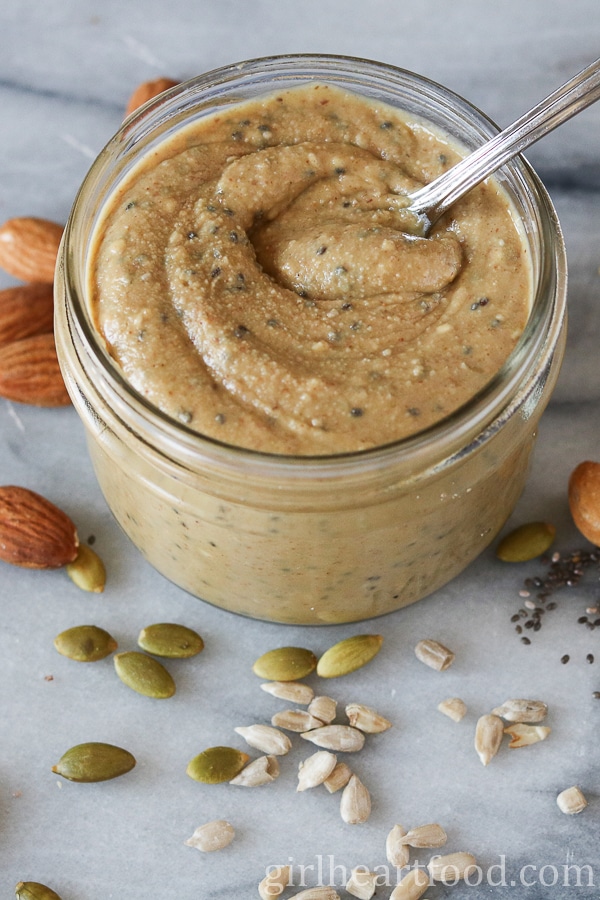 RECIPES I'M LOVIN' RIGHT NOW
Here's a couple of recipes from friend and fellow food bloggers I'm loving and I know you will too!
Lamb Shawarma from Pinch and Swirl .  I love this recipe from Marissa!   She even makes her own pita bread for this one.  How awesome is that?
Peach Ale Breakfast Loaf with Honey Butter from Craft Beering.  Anyone who knows me knows that I love butter, especially when it's directly on a warm loaf straight from the oven!   Who doesn't, right?
TV SHOWS/MOVIES
Atomic Blonde featuring Charlize Theron.  I mentioned previously that hubby and I were going to see this one and, of course, we did! It's an action packed spy movie.  Aside from the dark filter that was on the movie the whole time, I absolutely loved it.  The action scenes were out of this world good!
Ozark on Netflix – A friend and fellow food blogger, Cheyanne, referred me to this show.  It features Jason Bateman and it gives me all sorts of Breaking Bad vibes.
Atypical on Netflix. It's about an 18 year old boy on the autism spectrum.  It's such a sweet and funny show, really heartwarming.
MUSIC
As you probably know, I'm always on the lookout for new songs to add to my playlist.  I play the heck out of songs that rock my boat until I've had enough; why do I do that to myself?  Do you play songs you enjoy over and over again until you tire of them too?   I'm really enjoying these right now –
There's Nothing Holdin' Me Back by Shawn Mendes
Praying by Kesha.  That chick is back with a new song and I must say that it's quite different from what I'm used to hearing from her.  I actually really enjoy it!  What do you think?
Strip That Down by Liam Payne featuring Quavo
RANDOM
Remember I told you I would be sharing some pics from our staycation vacation?  Well, without further adieu here are some—>
We visited Cape Spear, a national historic site, and it's also the most easterly part of Canada and North America!  It happened to be a gorgeous day when we visited and you could even see whales in the distance doing their thing.
What a view, right??
The Pitcher Plant is the official flower of our province, Newfoundland –
Hubby and I took fur baby, Riley, and he LOVED it!!  I was wondering how he would behave and he enjoyed it so much.  We packed a picnic and even one for Riley.  I thought for sure that it would be pointless in taking food for him cause he would be too distracted, but nope.  We laid out our blanket and hubby gave him a drink of water and feed him his food and he just sat there between us chillin'.
Hope you've enjoyed my Monthly Favourites August 2017!  What has been your favourites this past month?
Have an awesome week and take in all the good sites like this little guy!
Oh, and before I forget, stay tuned for later this week.  I'm bringing you a round-up of Ultimate Weekend Eats & Drinks so you're going to want to check that one out before the upcoming long weekend 🙂
~D
P.S. If you want to check out my last Monthly Favourites, you can check it out here.