There is nothing better than edible food gifts for Christmas (or any gift giving occasion) – something that you took time to make and put your love into. Homemade food gifts are satisfying to make and wonderful to receive!
Every year I like to make homemade food baskets for family. They are always well received and so fun to prepare.
Here's a bunch of edible gift ideas, some from myself, and others from fellow friends and food bloggers. There's definitely something for everyone. Enjoy!
Mixed Nut and Seed Butter – Girl Heart Food (me)
This one is made with all natural ingredients and can be whipped up in minutes! It's delicious in smoothies, on your morning toast or simply enjoying straight up with a spoon 🙂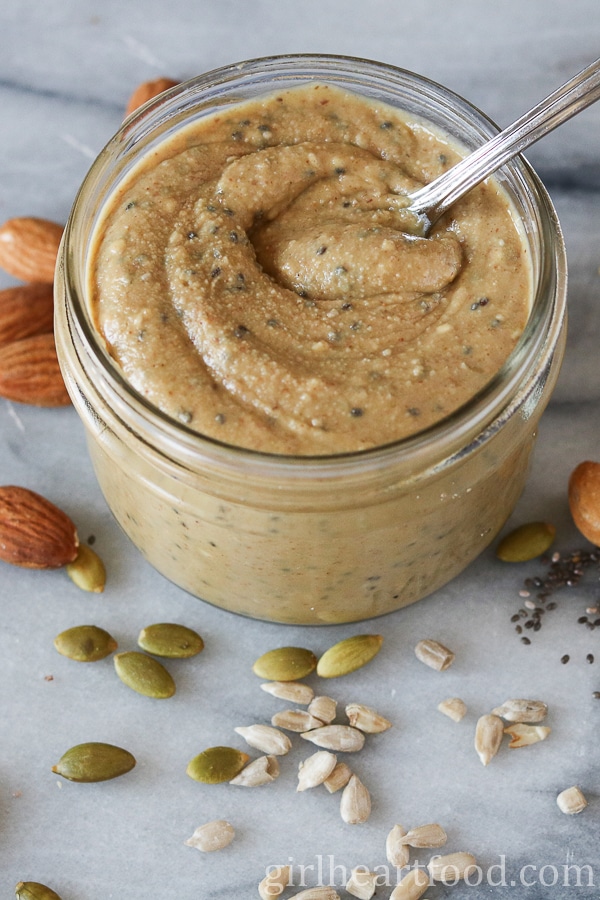 Holiday Biscotti from Taste and See (pictured below & photo credit) – Totally festive and perfect for dunking in that holiday beverage!
Orange Marmalade from Beyond the Chicken Coop (pictured below & photo credit) – This one has only 3 ingredients! Yes, 3 ingredients – can't get much simpler…and that colour is so pretty, isn't it?
The Best Vegetable Infused Vodka for Bloody Mary – A Fork's Tale (pictured below & photo credit) – Having a celebratory cocktail during the holidays? This is a perfect base infused with lots of veggies to create one delicious drink.
Easy Salted Double Cashew Brittle from Pinch and Swirl (pictured below & photo credit) – I'm such a sucker for salty and sweet combos and this one hits all the right notes.
DIY Infused Oils from Lauren Caris Cooks (pictured below & photo credit)- The presentation of homemade infused oils is lovely and has so many uses! I particularly love them for dipping bread as an appetizer.
DIY Jarred Gift (Chocolate Cherry Oat Scones) from Simple Seasonal (pictured below & photo credit) – This is one lovely gift to give someone. Practically everything you would need to make homemade scones, perfect for Christmas morning.
Peppermint Bark Fudge from Sugar Spun Run (pictured below & photo credit) – I love the combo of peppermint and chocolate and this fudge looks super decadent! I would have a hard time giving this one away, lol 😀
Yummy Grinch Heart Raspberry Filled Sugar Cookies from Tasty Ever After (pictured below & photo credit) – Aren't these the cutest little cookies? The Grinch is one of my favourite Christmas movies. Curl up with a cup of cocoa and a few of these and you're set!
Polar Bear Pawprint Snowball Cookies from The Road to Honey (pictured below & photo credit) – Love the look of these festive cookies. Plus, I'm a huge fan of coconut (if anyone is wondering 😉 ).
No Bake Peppermint Chocolate Snack Bites from Girl Heart Food (me) – Made with only a handful of simple pantry ingredients, these come together in about 10 minutes!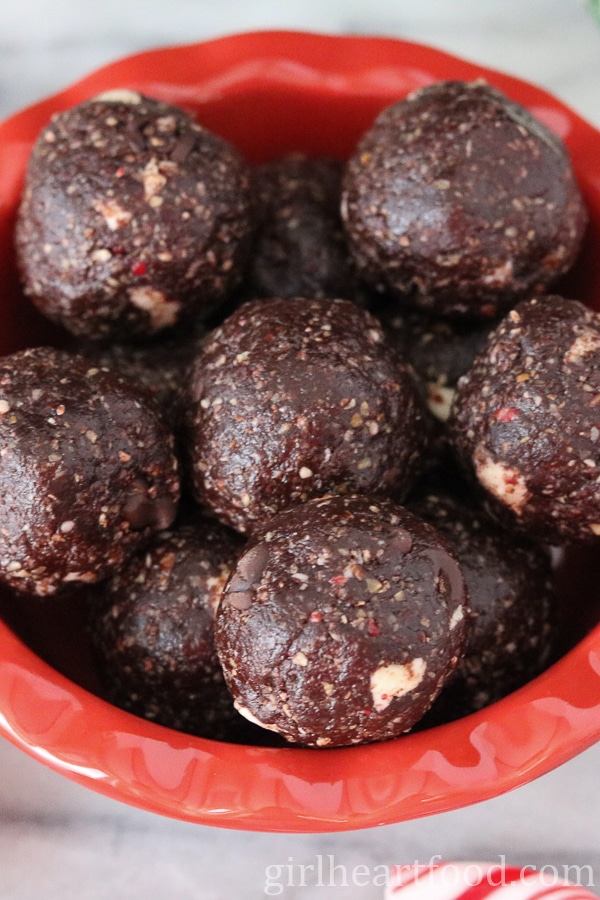 Classic Holiday Spritz Cookies from Everyday Eileen (pictured below & photo credit) – Definitely a classic Christmas cookie. Plus, super fun to decorate, am I right??
Hope you find some inspiration with these homemade food gifts for Christmas! They would be great for teachers, friends, family, or as hostess gifts.
What's your favourite edible food gift to give (and get)?