Entertaining this holiday season? Of course you are! Here are 12 Easy Recipes for Entertaining at Home – some of them can be whipped up when guests arrive and other require minimal effort beforehand. Plus, there's some practical tips to help you pull off your party without a hitch!
12 Easy Recipes for Entertaining at Home
Baked Camembert with Berries, Thyme & Wine – Creamy, luscious camembert is topped with blueberry jam that has been mixed with a touch of wine, thyme and pepper. It's baked until warmed through and all melty. When it's removed from the oven, it's topped with fresh berries and walnuts. It's perfect for slathering on some toasted baguette.
Smoked Salmon & Avocado Flatbread Appetizer – Super easy and flavourful (and whipped up in under 15 minutes). Crispy flatbread is topped with creamy goat cheese, smoked salmon, avocado, capers and chives. Delish!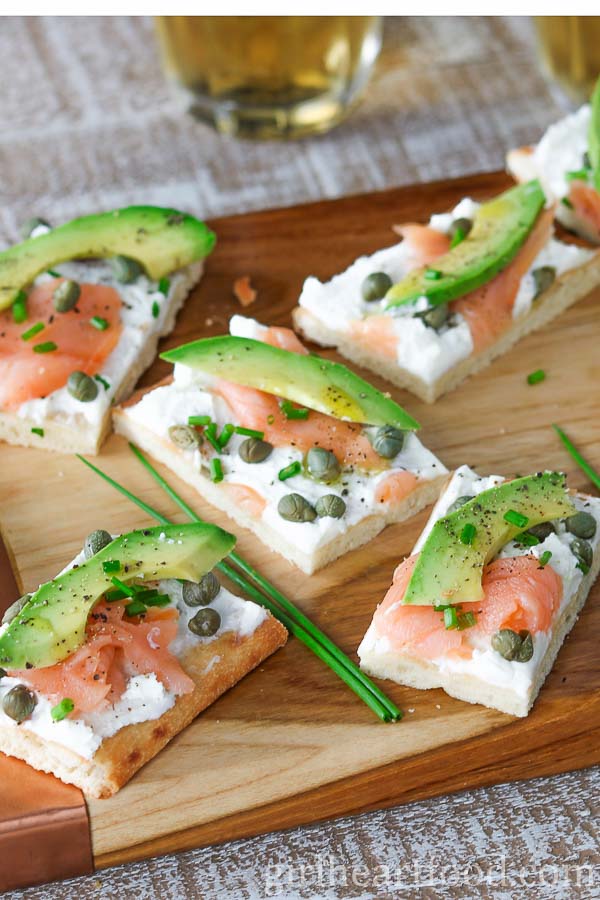 Marinated Feta with Olives & Sun-Dried Tomatoes– This easy Marinated Feta recipe combines a little heat, some fresh herbs and savoury flavour from feta cheese, black olives and sun-dried tomatoes.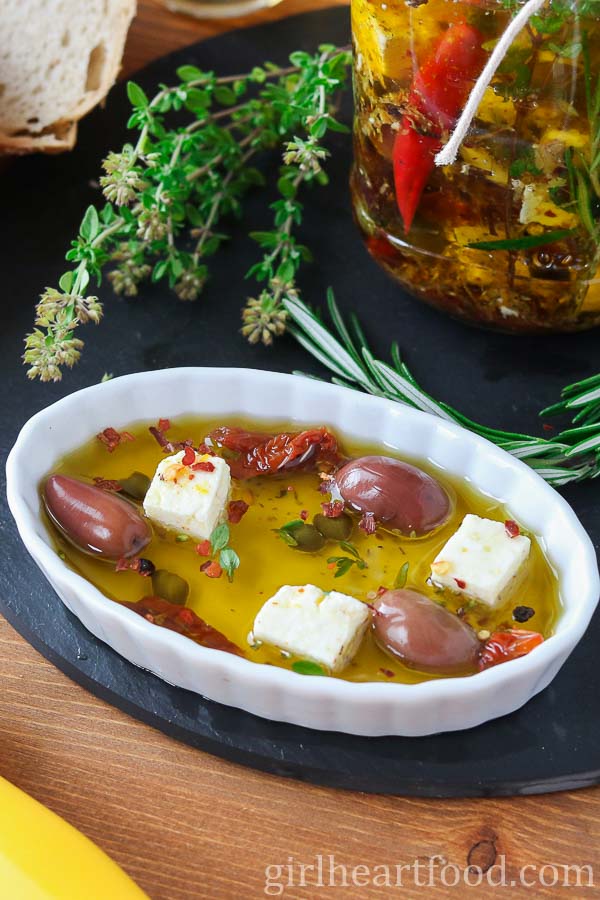 Christmas Crostini – These two-bite Christmas Crostini take minutes to assemble and are a great addition to your holiday menu! There's creamy brie, crispy prosciutto and sweet clementine & pomegranate. They're finished with a little drizzle of balsamic reduction for one belly satisfying appetizer.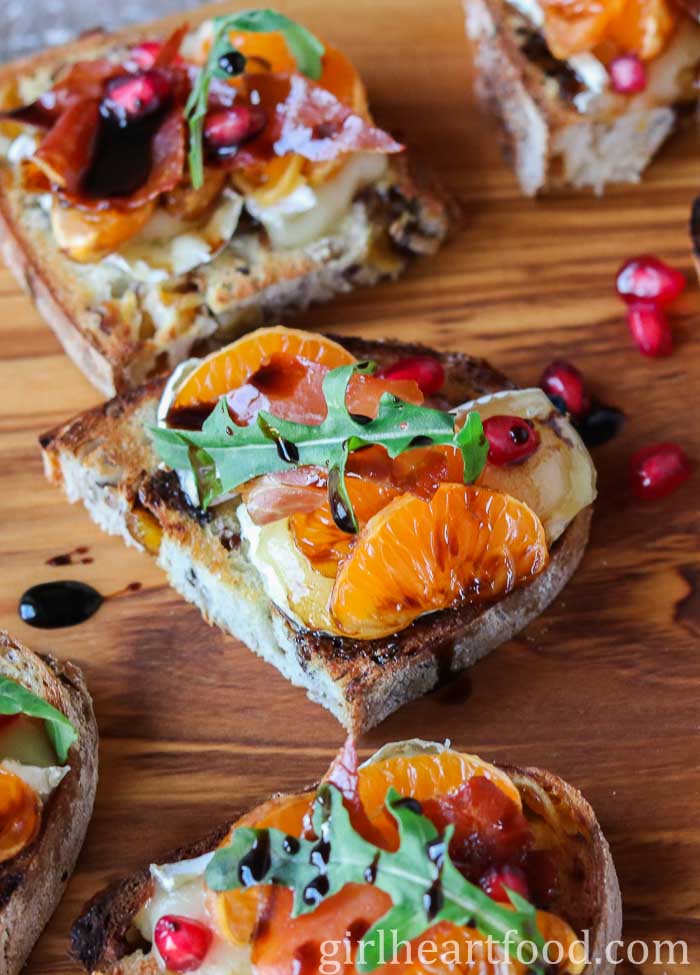 Honey Roasted Peanut Clusters – Five ingredients and only 15 minutes and you're on your way to one of the most addictive snacks you'll ever have. Honey is combined with a touch of cayenne pepper, butter and salt to make a salty, sweet snack that will be hard to resist.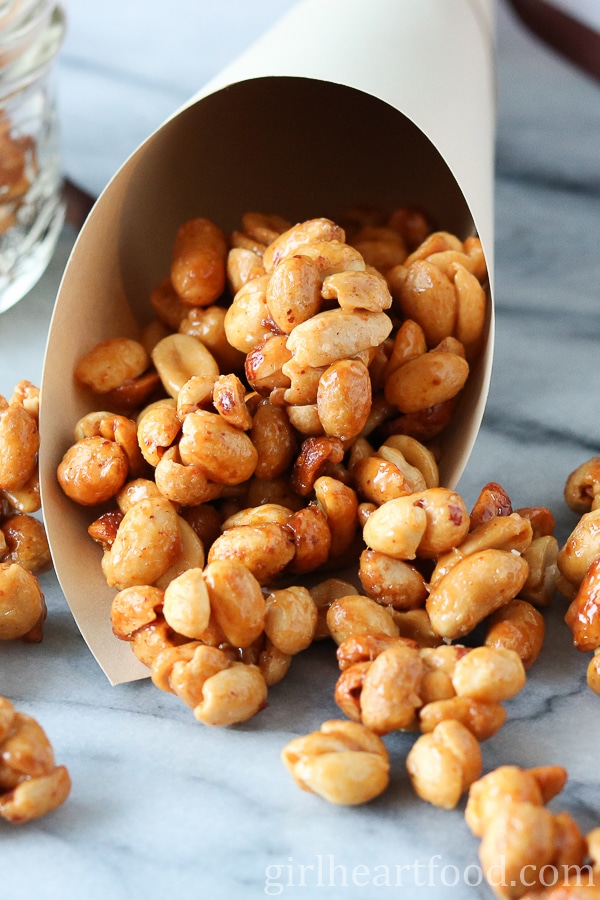 Meat & Cheese Board – Minimal preparation, maximum flavour. Plus, you can customize them with whatever cheeses, meats and the like that you and your guests enjoy best.
Spinach Artichoke Dip – This Spinach Artichoke Dip Recipe is loaded with spinach, artichokes, cheese and a little spice. Buns for dipping are built right in. It's sure to become your new favourite!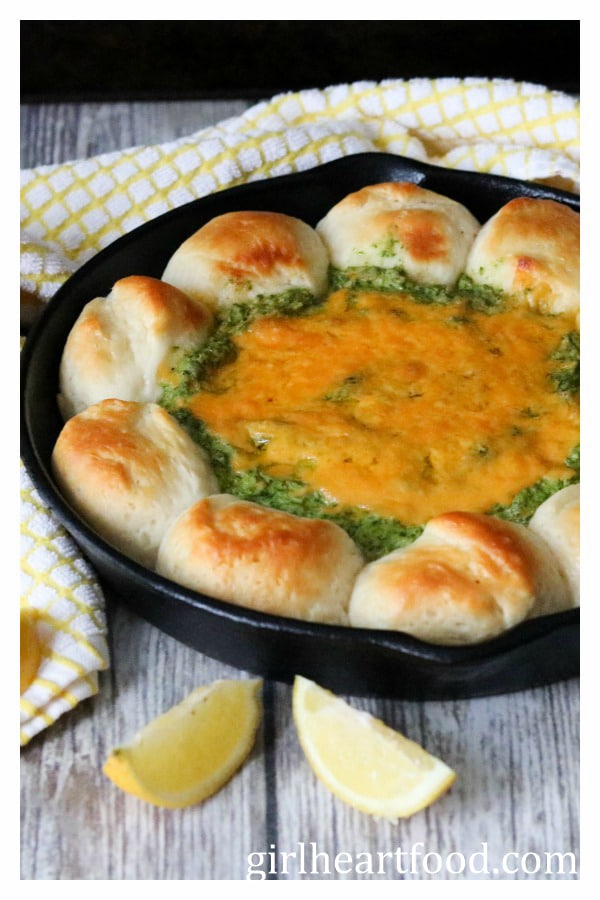 Roasted Strawberry & Tipsy Cheese Crostini – This Roasted Strawberry and Tipsy Cheese Crostini is simple to put together and disappears just as fast. It's the perfect little bite!
Roasted Acorn Squash Crostini with Crispy Prosciutto and Goat Cheese – This crostini is one delicious two (maybe three) bite app! Acorn squash is diced and roasted until golden brown and slightly caramelized. A generous spread of creamy goat cheese is the base and crispy prosciutto and walnuts give some delicious flavour and texture!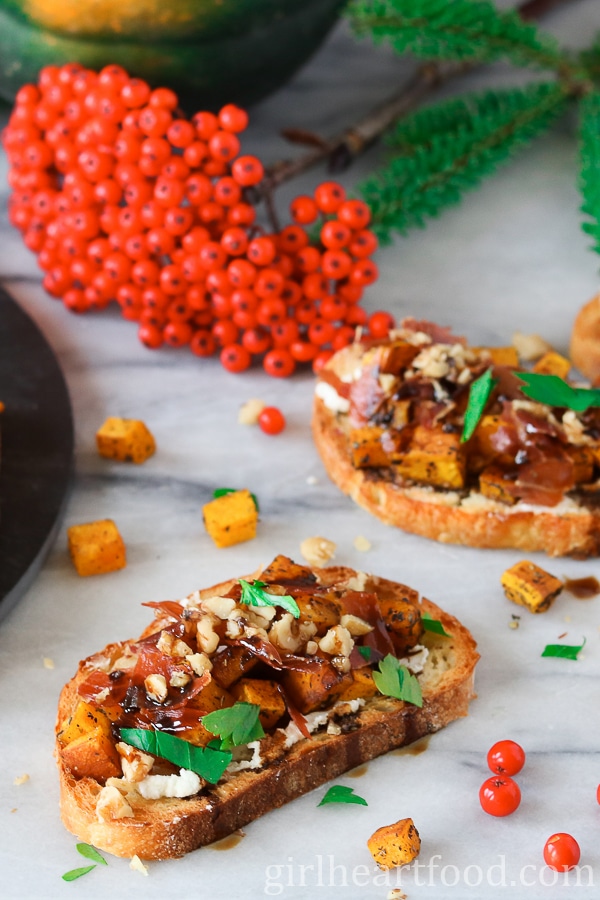 Chocolate Mint Avocado Pudding Tarts – Every party needs a little dessert and these would be just perfect! Would you rather not use tarts? Layer pudding with whipped cream in pretty little serving dishes!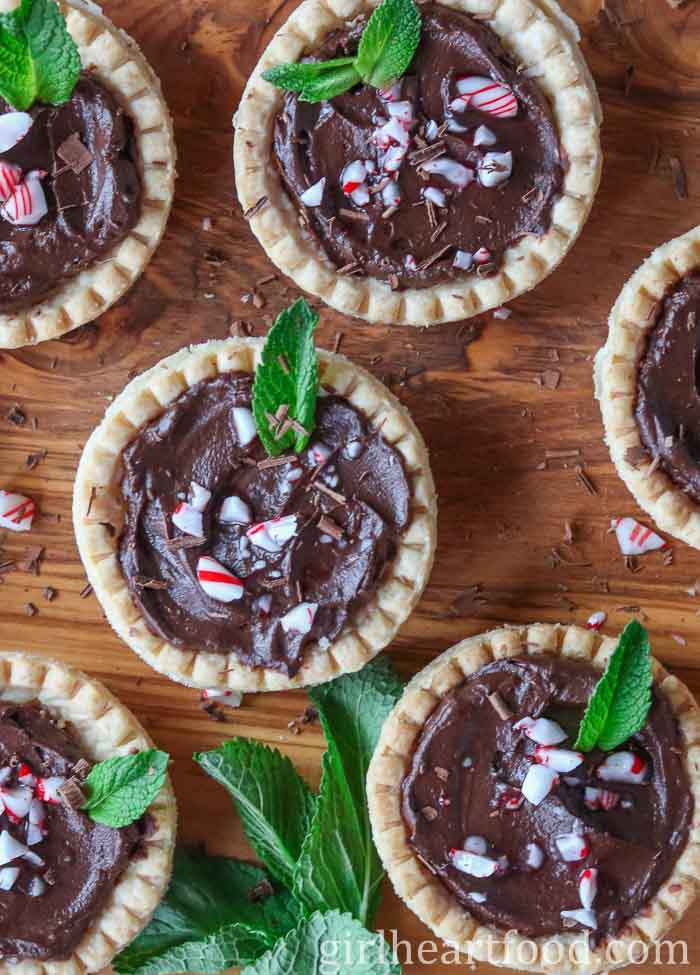 Ultimate Caesar Cocktail – This cocktail is a total Canadian classic. It's Clamato juice based with a hit of vodka and the whole thing gets flavour and spice from ingredients like horseradish, Worcestershire sauce and hot sauce. Like most cocktails, this one is made quickly (in under 5 minutes). How about making a big jug of the caesar cocktail base and then setting up a garnish station so guests can garnish how they like it? Fun too!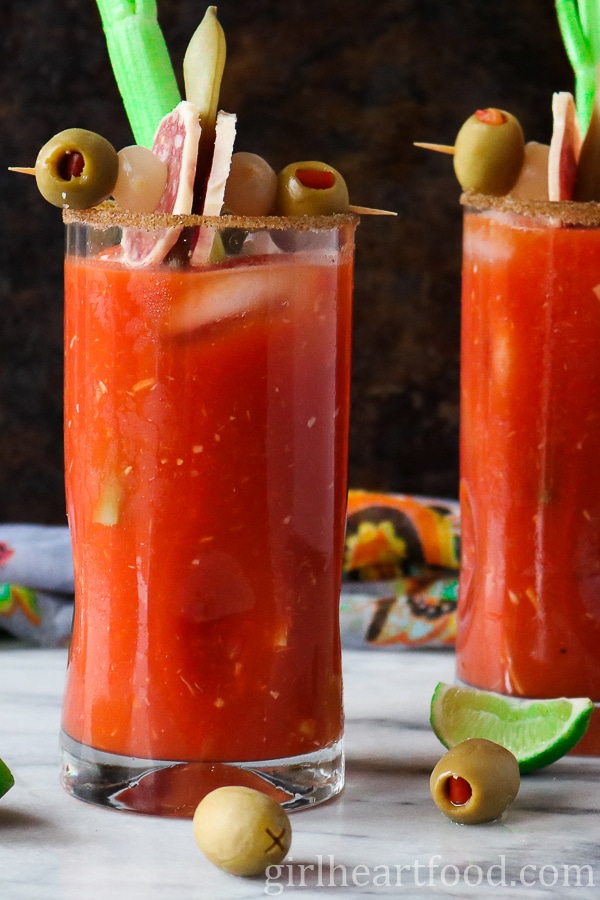 Beet Cashew Dip – Creamy, dreamy and super dip-able this Beet Cashew Dip is made with only 6 ingredients. It's delicious with chips or veggie sticks!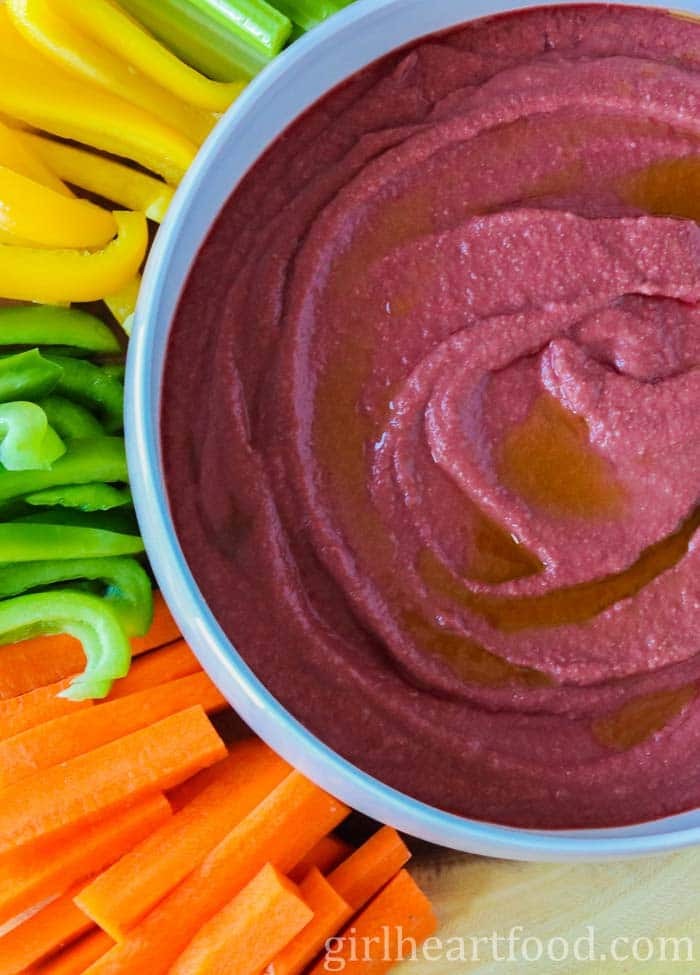 Other Easy Party Food Ideas
Chop some celery sticks, carrot, broccoli, cauliflower and the like and place on a pretty serving tray with a dip in the middle.
Same with a fruit tray – think strawberries, pineapple, grapes, melon and the like. Easy to whip up and always goes over well.
Don't want to make everything?? Contact your local grocery's deli department for pre-made trays of sandwiches or appetizers or buy quality pre-made products that you just have to warm through.
Place bowls of olives and nuts around the space where people will be hangin'.
Party mixes, chips and pretzels make for an easy snack. Have 'em around the space too.
Have plenty of bread sticks and crackers. They're great for filler as well as for those dips.
Make use of your slow cooker for savoury food! You can pre-make meatballs (or buy 'em), throw them in the slow cooker with some sauce, heat up and keep warm. Easy peasy!
Tips for Entertaining at Home – Pull it Off Without a Hitch!
Know your guests! Do they have any dietary requirements? Are they allergic to anything? Keep that in mind when planning so you can having something for everyone.
Have a variety of alcoholic and non-alcoholic beverages for guests. Not everyone enjoys the same thing.
Have a drink station (and keep 'em cold) and allow guests to serve themselves.
Speaking of drinks, have lots of ice. The ice from your ice maker can disappear fast! Make some in advance or pick some up.
Lay out plenty of utensils, skewers and napkins.
Anything that you can prep the day before, do it! It'll save time the day of.
Ensure baths are stocked with fresh towels, toilet paper and soap. Nobody wants to be in there and have to quietly say 'excuse me, can someone pass me some toilet paper?' 😉
Create a warming, welcoming atmosphere. Create a playlist beforehand with a mixture of music so you aren't fumbling to find something.
Clean up counter spaces of clutter.
Have lots of coasters around (to save your furniture from water marks).
Ensure your walkway is clear of debris, snow, etc. And have any porch lights on so people can see where they are going.
Make sure your closet has plenty of hangers for coats. Nobody wants to dig through the pile of jackets when they leave.
Close doors to rooms not in use.
Have pets? Are they friendly and well behaved? Are they used to strangers? Any of your guests allergic? Maybe guests will feed your pet food they shouldn't be eating? These are things to keep in mind. Perhaps your furry family member needs to be stay with a friend for the day or kept elsewhere in the home (make sure there's lots of food, water, a bed, and you check on the little guy to see if he/she needs to go potty).
Leave your guests with a little somethin'. If you have the time, little goodie bags of homemade cookies to go always goes over well.
Last little tidbit of advice? Entertaining at home should be FUN! Don't stress out and don't forget to enjoy yourself! With a little bit of planning, your party will go over smoothly.
Hope you've found some inspiration in these easy recipes & tips! Entertaining at home doesn't have to be stressful! It can be fun (and affordable). Enjoy!
Until next time, take care and chit chat again soon,
Dawn