Wondering what to do with all that leftover turkey from the big holiday feast? Here are 12 easy leftover turkey ideas to use those Thanksgiving leftovers!  There's turkey casseroles, turkey soups and, of course, a turkey cranberry sandwich, just to name a few.  Let's dig into these delicious leftover turkey recipes, shall we?
Happy Thanksgiving to all my Canadian friends!  I hope you stuffed your face (like I did) with a big ol' plate of yummy food!  Aside from Christmas day dinner, Thanksgiving is one of my all time fave foodie days.  I love the turkey, of course, but that dressing (aka stuffing) and gravy?  Loves it!  If you find yourself with tons of leftovers, I've rounded up 12 easy recipes using leftover turkey from myself and fellow blogger friends.  You'll be wishing you cooked a larger turkey cause you're gonna want to try all of these 😉
What to do with Leftover Turkey? Here's 12 Easy Leftover Turkey Ideas!
Turkey Cranberry Sandwich from me (Girl Heart Food) – This Turkey Cranberry Sandwich is your answer!  This grilled cheese sandwich combines lots of turkey, tart cranberry sauce, creamy goat cheese and melty mozzarella for one comforting bite!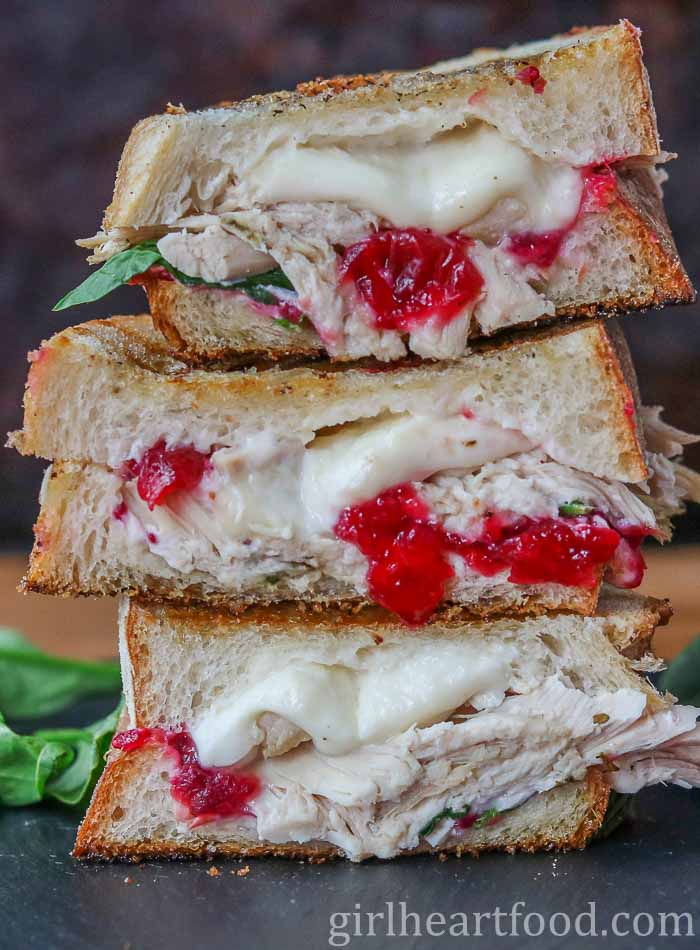 Turkey Shepherd' Pie from The Cozy Cook (pictured below & photo credit) – Juicy turkey tossed with a medley of vegetables and gravy. All topped with cheesy mashed potatoes and baked until golden.
Turkey Gouda Party Rolls from Nourish and Fete (pictured below & photo credit) – These turkey gouda rolls with honey mustard glaze are quick and easy  to prepare. Such a unique way to use those Thanksgiving leftovers.
Easy Stromboli Recipe from Lemons for LuLu (pictured  below & photo credit) –  Store bought pizza dough and leftover holiday turkey make this recipe a snap to prepare!
Dump and Bake Turkey Tetrazzini from The Seasoned Mom (pictured below & photo credit) – This dump and bake turkey tetrazzini is the perfect way to use up leftover turkey and so so easy to prepare.
Turkey and Dumplings from The Anthony Kitchen (pictured below & photo credit) –  this one features leftover turkey (of course), carrots, celery, and homemade dumplings. So comforting and delicious!
Kale and Butternut Squash Turkey Soup from Taste and See (pictured below & photo credit) – this turkey soup is hearty, healthy and absolutely delicious! With homemade stock, butternut squash, potatoes, kale, turkey, sage and thyme, it's an easy and healthy dinner.
Turkey Frittata from Fuss Free Flavours (pictured below & photo credit) – This leftover roast turkey frittata only takes a few minutes to make but tastes great and is a brilliant way of using up those turkey leftovers. Delish with a side salad too!
Tuscan Turkey Tortellini Soup from Garlic and Zest (pictured below & photo credit) – This one has a savory broth and pillowy cheese-filled tortellini! Sounds good, right?
Turkey Croque Monsieur or Turkey Croque Madame from The Flavor Bender (pictured below & photo credit) – A glorious turkey variation of a classic French sandwich, this Turkey Croque Monsieur is perfect for using up Thanksgiving leftovers! For a twist, top it with a fried egg for a Turkey Croque Madame.
Easy Creamy Leftover Turkey Pasta Recipe from Salt and Lavender (pictured below & photo credit) – This easy creamy leftover turkey pasta recipe is ready in only 20 minutes. And who doesn't love pasta?
Turkey Quinoa Pumpkin Soup from Yang's Nourishing Kitchen (pictured below & photo credit) – This turkey quinoa pumpkin soup is a nourishing cold weather soup with a bone broth base.
And if you find yourself too tired or just not in the mood to cook right away, cold leftover turkey with plenty of Dijon mustard is never a bad idea 😉
Hope you find some inspiration with these 12 comforting recipes using leftover turkey.
Until next time, take care and chit chat again soon,
~Dawn
P.S. If you think these easy leftover turkey ideas will make your belly happy too, please be sure to hit that little Pin button.  Many thanks, you guys! XO